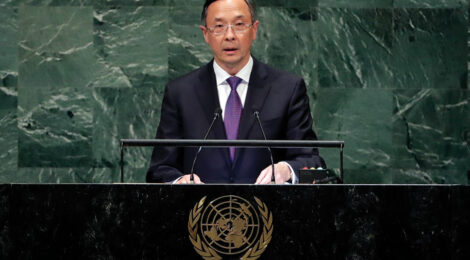 Kazakhstan earned praise for its two-year stint as a nonpermanent member of the United Nations Security Council, a position from which it focused on counterterrorism, nuclear nonproliferation and overseas peacekeeping operations.
As the first-ever Central Asian member of the Security Council, Kazakhstan took pride in its sponsorship of the Code of Conduct Towards Achieving a World Free of Terrorism, signed by
70 countries in September 2018. 
Another achievement was the deployment of 120 troops in late 2018 to the United Nations Interim Force in Lebanon (UNIFIL), which has kept the peace in South Lebanon.
Kazakhstan has focused on stabilizing not just Afghanistan — a country whose problems have threatened to spill over into Central Asia — but also Syria. Kazakhstan held Syrian peace talks in Astana attended by combatants in the country. Then-Kazakh President Nursultan Nazarbayev also made strides in promoting nuclear nonproliferation, a legacy of the country's removal of nuclear weapons after the dissolution of the Soviet Union. 
Singapore's permanent representative to the U.N., Burkhan Gafur, lauded Kazakhstan for its constructive engagement with the international community. Kazakhstan "made an important contribution to achieving peace and security not only in Central Asia, but also in all of Asia and the world," Gafur said.
Sources: Kapital.kz, 24.kz, Tengri News, Bnews.kz.