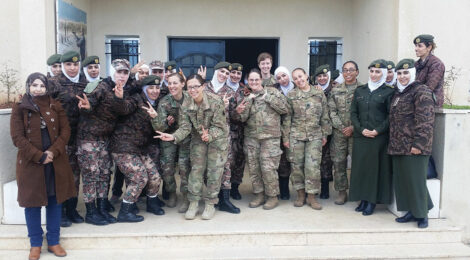 UNIPATH STAFF
A key part of the Jordan Armed Forces — its female nursing corps — reinforced its ranks during a graduation ceremony at the Princess Muna College of Nursing at Mu'tah University.
Under the patronage of Maj. Gen. Saad Jaber, director general of the Royal Medical Services, the college graduated female students for enrollment in the Armed Forces in March 2019.
Dean of the College Dr. Hala Obeidat commended Princess Muna al-Hussein's continuous efforts to improve the quality of education and noted how the leadership of the Jordan Armed Forces was grateful for the additional personnel.
"Adorned with the Arab Army logo and armed with awareness and knowledge, this elite group will be launched today into the field of glory and honor bearing their visions and aspirations in the best sense of loyalty and giving to Jordan," Dr. Obeidat said.
She urged the new graduates to dedicate themselves to their work, abide by the ethics of their profession and contribute to humanity.
Princess Muna College was established in 1962 and offers three-year degrees in nursing. Women in Jordan can join the Jordan Armed Forces as civil servants or as commissioned and noncommissioned officers.
They are treated equally with their male counterparts in terms of salary, rights, allowances, promotions, training and length of service; they also receive paid maternity leave for three months.  Sources: Al Rai newspaper, Mu'tah University