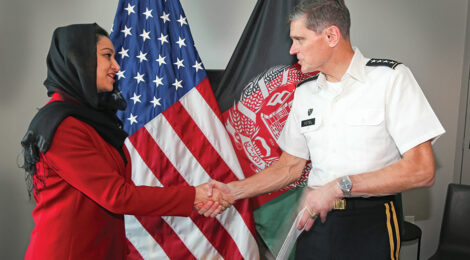 Afghan Ambassador to the United States Roya Rahmani discusses the future of her country
There is no mistaking the pride that Ambassador Roya Rahmani has for the people of Afghanistan. When she shares stories of her countrymen's sacrifice, resilience and hope for the future, she speaks with humility and passion. She is not blind to the enormous challenges Afghans face in achieving and maintaining security and stability. For example, the average daily death toll in the fight against terrorism is 70-80. However, she is a determined advocate of peace.
In December 2018, Rahmani became Afghanistan's first female ambassador to the United States. Before assuming this post, she served as her country's ambassador to Indonesia, nonresident ambassador to Singapore and ambassador to the Association of Southeast Asian Nations. Rahmani's extensive career includes serving as director general for regional cooperation at the Afghan Ministry of Foreign Affairs. 
Unipath sat down with her on the sidelines of U.S. Central Command's fourth annual Central and South Asia Directors of Military Intelligence Conference in February 2019.
Unipath: Afghanistan's troops have made great sacrifices in the fight to stabilize the country. What makes them so resilient?
Ambassador Rahmani: As you rightly said, they have made huge and tremendous sacrifices, something we honor every day. I cannot speak for them, but from what I understand and the discussions that I have had with some of them, it is a desire to live a normal life where they can meet their full potential. It is a desire to provide opportunities for their children and for the future generations. Afghans have suffered tremendously, and the prolonged conflict has denied them the basic necessities of life and progress in the current era. They really value any opportunities they find, and they are fighting to ensure that their sons, daughters and future generations have those opportunities.
There is also a sense of patriotism — Afghans are freedom fighters. They have always fought for their freedom and they are patriotic. The love of the homeland is what drives them. They believe in their values, they believe in their potential. They believe in their homeland and their people. From what I understand those are some of the driving factors. But I don't think I can do justice in terms of what drives them because I am a mom myself. I cannot imagine what goes on in the minds of a mother and father when they are on the front lines fighting and they don't know whether they will return to see their children — whatever that driving force may be, it is huge, it is selfless, it is heroic. We all have passion for our country, but to the extent that they have put it to the test, I just can say salut to them.
Unipath: What are some notable achievements of Afghanistan's national defense and security forces?
Where can they focus on improvement?
Ambassador Rahmani: In 2014, when over 100,000 foreign troops withdrew, many speculated, including people in my own country, that Afghanistan would fall back into civil war. They believed there would be complete chaos, that the security forces would not be able to defend our land. And our security forces proved them wrong. I don't think there can be any bigger success than that. This came at the same time as an election when a new government had taken over. It wasn't only the reduction in the number of troops that the country faced, there was a huge economic decline, due to the massive reduction of the foreign forces and fewer contracts, services and jobs available. However, that also marked the beginning of our transition from an aid dependent country to a self-relient one. Of course, that placed huge pressure on the people and nation. And they stood the test. They fought harder.
The recent parliamentary election was the first election that our security forces alone were in charge of securing. There were incidents, but fewer than the previous incidents during parliamentary or presidential elections. And it was only the Afghan forces who were in charge of securing or maintaining security on election days. This is an achievement. 
What areas do they need further support? One of the major areas we have been building, thanks to support from our allies, is our Air Force. It is extremely important. We started from scratch. And it is well on its way. It is being built, and we are hoping that it will be further developed. 
Unipath: How can Afghanistan's partners ensure the stability and security of Afghanistan?
Ambassador Rahmani: Our regional partners must come to the realization that a stable, prosperous Afghanistan is to their benefit, more than an unstable Afghanistan that is struggling in conflict. They should recognize that Afghanistan cannot stay a buffer zone and remain immune to the problems of terrorism and extremism. That is no longer a possibility. They can positively contribute to the ongoing efforts toward peace and stability and look at Afghanistan as a partner directly. If they are looking at Afghanistan as a partner — and our relationship is built on what we can do together — there will be better results rather than looking at Afghanistan as a country on the periphery in their relationship with other countries.
Our international allies and friends who have so greatly and massively contributed to a better Afghanistan over the past 18 years cannot lose of the sight of what has been achieved. Irreversible gains have occurred through education, reform, institutionalization and, most importantly, a change of mindset. Imagine how deeply extremism could grow if it was not for the intervention. It's a matter of global security.
Unipath: How can Afghanistan build a stronger relationship with its neighbors in Central Asia?
Ambassador Rahmani: Central Asian partners are very important to us — for our economy, for our people to build relations with and for our regional aspirations. We have made great strides, especially in the past few years, with many Central Asian countries. Afghanistan is the shortest route connecting Central Asia to South Asia. Through transport of energy, goods, and data this region has so much potential as a great contributor to the global economy. Enhancing regional connectivity and integration will also contribute to regional security, cooperation in areas of food security, disaster management, education and people to people relations. All of which in turn will contribute to peace and prosperity for the region and globally. We are hoping we can further strengthen our relationship with Central Asian countries.
Unipath: What are Afghanistan's diplomatic priorities in the region and the world?
Ambassador Rahmani: Afghanistan's priority is always to keep friendly relationships and partnerships with all of its allies. We want to be a partner in the fight against terrorism. We want to be a partner in economic development. We want to be a partner in promoting the important values that are shared, like democracy, human rights, and people's civil rights and dignity. And let me add that Afghans are good friends, and it is also part of our cultural values that we put our lives on the line for our friends, but we demand respect in return.