The country monitors suspicious financial transactions in cooperation with foreign partners
Fiscal year 2018 highlighted a series of constraints and challenges that the Financial Transactions and Reports Analysis Centre of Afghanistan (FinTRACA) endured and successfully overcame. The center continued making great efforts to improve collection, analysis and dissemination of reports that form the core functions of FinTRACA. 
In pursuit of building capacity and enhancing the ability of reporting entities to detect money laundering and terror financing red flags and improve the quality of suspicious transaction reports and large cash transaction reports, the center provided reporting entities with technical assistance and training programs.
As a result, in 2018 the center increased large cash transaction reports by 21 percent, for a total of 1.4 million reports. Suspicious transaction reports numbered 767, an increase of 59 percent over the year before. It is worth mentioning that suspicious transaction reports received by FinTRACA in 2018 were of higher quality and well-diversified.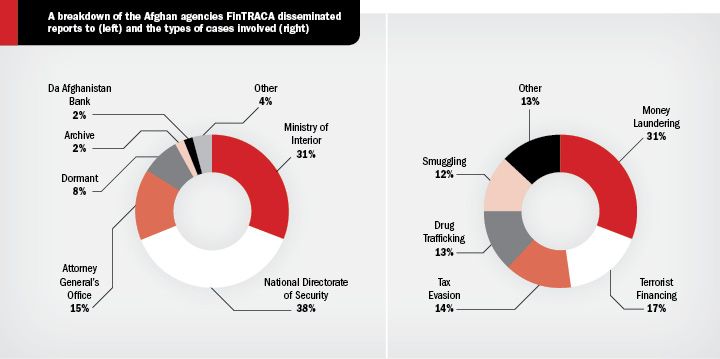 Data collected in 2018 for analysis was also influenced by new sectors added to the list of reporting entities. This addition increased our sphere of work and scope of influence concerning our fight against money laundering and terror finance. 
In terms of analysis of reports and financial information, FinTRACA has made tremendous efforts to provide value-added products to law enforcement agencies, including Afghanistan's Attorney General's Office. The FinTRACA staff has worked on its analytical capabilities and has received specialized training aimed at building capacity.
Analysts now engage more with stakeholders, enabling the analysts to grasp an overall picture of their cases. Some cases are investigated pre-emptively without being triggered by suspicious transaction reports. 
In 2018, the center undertook a new approach of disseminating financial information to multiple law enforcement agencies, maximizing the efforts of our Financial Intelligence Unit (FIU).
As information is disseminated to concerned agencies, the suspects referenced in financial reports find escaping justice to be more challenging. Statistics compiled at the end of 2018 showed a 44.4 percent increase in cases analyzed by FinTRACA concerning suspected crimes such as terror finance and laundering of criminal proceeds. Filtered and endorsed through 19 FIU executive committee meetings during the year, a total of 47 spontaneous cases were disseminated to relevant agencies.
In addition to the spontaneous disseminations, FinTRACA received 251 domestic requests for analysis from agencies and responded to 241 — a response rate of 96 percent. The number of requests showed a 39 percent increase compared to those in 2017, reflecting the improving strength and sustainability of interagency cooperation.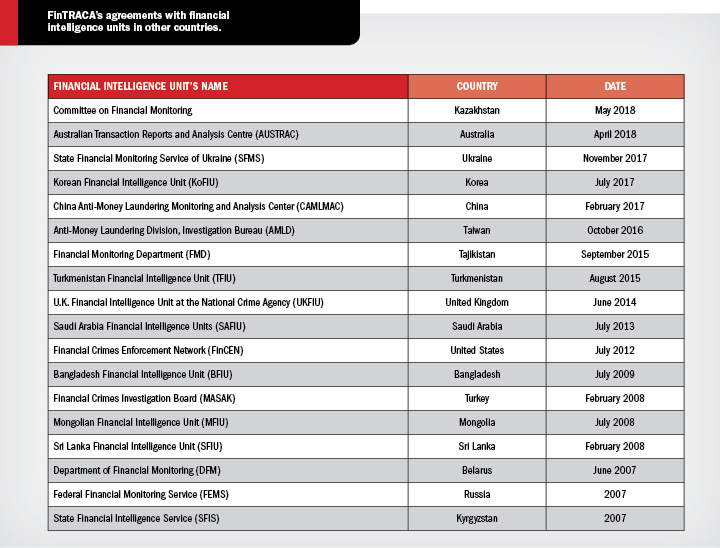 FinTRACA's scope of analysis also included financial analysis of reports received from the Customs and Revenue departments of the Ministry of Finance concerning tax and customs duty evasion. FinTRACA not only disrupts tax and customs duty evasion, it also exposes the misuse of trade by targeted subjects.
To improve the effectiveness of disseminating financial information to agencies, FinTRACA continued providing training and coaching support, focusing on methods to interpret and use the information. 
FinTRACA also shined in responding to international requests. Signing new memoranda of understanding in 2018 increased FinTRACA's scope of international cooperation, resulting in increased information exchange with foreign financial intelligence units.
In 2018, FinTRACA was mindful of the ultimate outcome of its anti-money laundering and counterterror finance measures. Efforts were made to improve the feedback process from law enforcement, which included many senior-level discussions in the FIU during the year.
High-level government officials took part in key discussions at High Council of Rule of Law and Anti-Corruption meetings. The council issued resolutions to relevant bodies aimed at better coordination with intelligence units, improving feedback. Meanwhile, a feedback database was established within the FIU to track cases disseminated to law enforcement.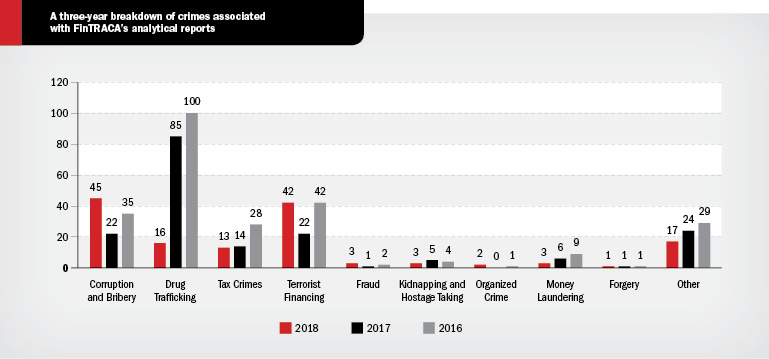 FinTRACA made other valuable contributions. The year marked the first steps by the Afghan government to establish the Office of Asset Recovery to recover assets dispersed through corruption and other criminal offenses. FinTRACA worked with the Asset Recovery Office within the Attorney General's Office to facilitate this national project. FinTRACA reviewed the regulations governing asset recovery and recommended changes to enhance success. 
FinTRACA contributed to national-level projects, such as coordinating the National Money Laundering/Terror Finance Risk Assessment and financial verification of declared assets of high-ranking government officials. It signed a memorandum of understanding with the National Procurement Authority to further improve transparency and limit access of financial criminals to public projects.
To enforce compliance, FinTRACA assessed 5.62 million afghanis in fines on banking institutions and money service providers, closed noncompliant bank accounts, suspended or revoked the business licenses of 25 money service providers, and disseminated analyses of unlicensed lenders in seven zones across the country.
With respect to human resource capabilities, 2018 saw additions to our workforce. Structural enlargement at FinTRACA saw the addition of three key functions — research and awareness, a non-banking financial institutions division and an international cooperation division.
The center's human resource structure increased to meet higher expectations and adapt to specialized task management. Increasing human resources will result in better use of time and increased workflow.
FinTRACA signed two international memoranda of understanding, with the financial intelligence units of Australia and Kazakhstan. This increased the number of such international agreements to 18. These agreements expanded the center's scope of international cooperation and information exchange.
The center also signed two domestic memoranda with the National Procurement Authority (NPA) and the Ministry of Interior Affairs. The NPA agreement is a landmark achievement that allows the FIU to financially verify contractors.
Having completed fiscal year 2018 on a high note, we are moving forward to fiscal year 2019. Our priorities include conclusion of the National Money Laundering/Terror Finance Risk Assessment, acquiring new technology for the FIU, improving the feedback process, building staff and reporting entities' capabilities, and continuing work with the Customs and Revenue departments.
FinTRACA will also study the nongovernmental organization and nonprofit organization sectors and work with the Asset Registration Office on verifying the assets of high-ranking government officials.
Establishing new provincial offices and improving scrutiny of cash, precious metals, gemstones and other financial instruments at land borders would increase our sphere of work and scope of influence to hinder money laundering and terror finance.
We have always emphasized capacity building and enhancing qualifications of the center's staff. I feel honored to be able to reflect upon my insistence that FIU staffers attain specialized qualifications to help them excel, and their professional capabilities have significantly improved. I have tried my best to be a source of guidance and support to all FIU staff and shall continue to do so.
To coordinate capacity-building efforts, a proposal was co-developed by FinTRACA, the Attorney General's Office, Da Afghanistan Bank, the Ministry of Finance, and the United Nations Office on Drugs and Crime (UNODC). Based on the proposal submitted, the UNODC has deployed an anti-money laundering/counterterror finance consultant to the Anti-Corruption Justice Center.
I would like to thank all staff at FinTRACA for their hard work and dedication and congratulate them for completing another successful year. Together, we shall remain committed to fighting money laundering and terror finance and serving the people and the country.