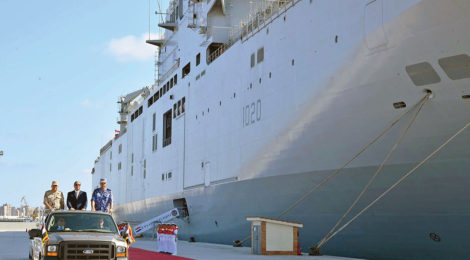 UNIPATH STAFF
Egypt's Navy engaged in a joint exercise with Saudi, Emirati and U.S. warships in the Red Sea in July 2018. Mine sweeping and boarding and inspecting ships were the focus of training.
But that midsummer exercise — dubbed Eagle Response 2018 — is becoming almost routine for Cairo's military planners. Egyptian naval forces conducted many exercises with Middle Eastern and European partners throughout 2018, a shift in focus for a nation best-known as a land power.
The Medusa naval drills — held with Greece and Cyprus in the Mediterranean Sea — and the Cleopatra drills — held with France in the Red Sea — were two of several ongoing cooperative exercises in 2018.
And a couple of weeks before Eagle Response, British warships joined Egyptian counterparts for counterterrorism drills in the Mediterranean that included intercepting and destroying hostile targets. A month earlier, in June 2018, it was the Spanish Navy's turn to train with Egypt, in the Mediterranean and Red seas.  
"Strategically, the exercises aimed to enhance the ability to protect vital targets from the unconventional threats that have emerged in the region during recent years," Egyptian newspaper Al-Ahram noted in a July 2018 article.
Among Arab-speaking nations, Egypt possesses the largest navy. It has spent the past several years acquiring new ships and weaponry to defend such vital international waterways as the Suez Canal.
In addition, discoveries of new underwater natural gas fields, maritime drug and weapons smuggling and illegal migration have increased the demands on naval forces in the region.  Source: Al-Ahram