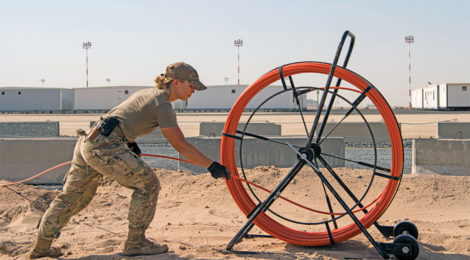 UNIPATH STAFF
The largest military cargo hub in the Middle East opened in Kuwait City in the second half of 2018. "Cargo City" will serve the Kuwait Air Force and U.S. and coalition forces as a military logistics point. The 33,000-square-meter project cost $32 million and will serve as a temporary cargo hub until the projected 2023 completion of West Al-Mubarak Air Base.
U.S. Air Force and Army engineers built Cargo City in cooperation with Kuwaiti contractors. The job was immense: Nearly
400 trucks carrying dirt and rock arrived at the site daily for four months. 
"During the build process, we were able to form friendships and build bonds with our generous host-nation partners," U.S. Air Force Capt. Sean Murphy said. "We wanted to go into this project with the clear intentions of building not just an operating location, but a lasting partnership."
To make room for construction of Kuwait's new international airport, the Kuwaiti and U.S. air forces were given a year to decamp from their former home, Abdullah Al-Mubarak Air Base. Cooperation between the two countries made the relocation easier than it might have been.  
"Cargo City was built with the intention of being a temporary solution, but will have long-lasting benefits," U.S. Air Force Capt. Jesse Lantz said. "This is one of the projects I am most proud of in my career. The teams here did an incredible job."   Source: U.S. Air Force