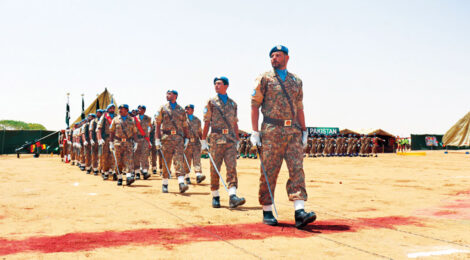 UNIPATH STAFF
After treating thousands of patients in Sudan's Darfur region, Pakistani military field hospitals have been acclaimed the "Pearl of UNAMID" by their grateful beneficiaries.
UNAMID is the abbreviation for the United Nations-African Union Mission in Darfur, the peacekeeping operation organized in 2007 to relieve suffering in the hard-stricken region of western Sudan.
Pakistani field hospitals in Darfur not only treated more than 15,000 patients — including 822 surgeries — they also opened free clinics that served another 46,000 Sudanese.
"Owing to such great service to humanity, Pakistani doctors became extremely popular with the title of 'Pakistani healers' in the local community," the Pakistan military magazine Hilal noted.
The hospitals were just part of the Pakistani military contribution to UNAMID. The country also sent a company of military engineers and rotating battalions of peacekeeping troops.
The engineers built roads, airfields and massive residential camps for 15,000 U.N. troops and civilians in the field before being repatriated in April 2019 with the draw-down of UNAMID.
As for the Darfur peacekeeping battalions, they have conducted more than 380 patrols a month in vehicles covering distances of 47,700 kilometers. The troops complemented the field hospitals by providing medical evacuations for local residents.
After 13 years spent stabilizing Darfur, UNAMID is scheduled to withdraw in June 2020. 
Sources: Hilal, UNAMID