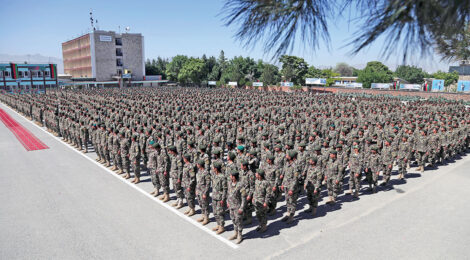 COL. A. ZIA KARIMI, AFGHANISTAN'S SENIOR NATIONAL REPRESENTATIVE TO U.S. CENTRAL COMMAND
In the span of a few years, the Afghan National Army (ANA) has become an effective, trustworthy force capable of assuming its place in the international community.
The ANA has improved its combat skills, thanks to the hard work and compassion of talented professional advisors and trainers who have spared no time in developing the Afghan Army.
Adopting an offensive doctrine, the ANA can plan and execute any combat operation against the enemy. Cooperation and coordination with other security agencies are much better, and special attention is paid to joint operations.
Afghanistan's government benefits from having a professional and loyal Army. These strengths are attributable to the quality of volunteers in its ranks, Soldiers who maintain the support of their families and fellow citizens.
We know that any army should be well-trained and disciplined to perform its duties. But armies should also have the best weapons and equipment and know how to use them. 
Afghanistan's U.S. partners have helped structure and organize the ANA in view of the military and political situation in the country and the region. The ANA is composed of combat-critical branches such as intelligence, field engineering, logistics and communications. Mobility and firepower are enhanced by the Afghan Air Force, which possesses a variety combat-ready fixed-wing and rotary aircraft to support the Army in its missions.
Afghanistan's Defense University includes various academies — the National Military Academy, Afghan National Army Officer Academy, Command and Staff College, Noncommissioned Officers Academy and Kabul Military Training Academy. They serve the nation by training young volunteers. 
In coordination with other security forces, the ANA has proven itself capable of effective counterinsurgency operations against a persistent, adaptable enemy. Most of these operations are conducted by the country's special operations forces and Special Mission Wing.
 To conduct a wider range of missions against internal and external threats, the ANA is making adjustments to account for manpower, technological and budgetary constraints. Once permanent peace and stability returns to Afghanistan, the use of reserve forces will be a cost-effective way to sustain a smaller active duty force at high readiness.