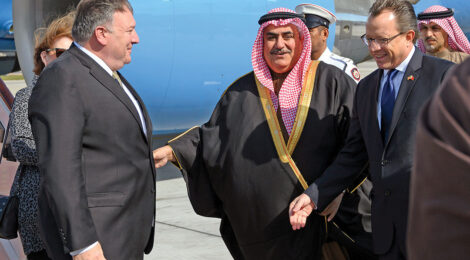 UNIPATH STAFF
Reiterating their commitment to counterterrorism, Bahraini officials attended the Middle East Strategic Alliance (MESA) Task Force conference in Washington, D.C., in June 2019.
Dr. Nasser Al Balushi, political and economic advisor to the Bahraini minister of foreign affairs addressed partnership and cooperation among Middle Eastern countries.
He stressed Bahrain's commitment to enhancing cooperation to fight terrorism and shrivel its sources of finance. Enhancing border security, consolidating terrorist watch lists and increasing exchange of intelligence were just three ways to make that happen.
He urged Arab nations to take advantage of various counterterrorism centers established in the Gulf Region. They include Prince Mohammed bin Nayef Center for Consultancy and Care and the Global Center for Combating Extremist Ideology — both in Saudi Arabia — and the Abu Dhabi-based Sawab Center.
Saudi Arabia announced the creation of MESA in May 2017, intending it to be a security partnership among Gulf Cooperation Council nations: Bahrain, Oman, Saudi Arabia, Kuwait, Qatar and United Arab Emirates, in addition to Egypt and Jordan. MESA revolves around security, but has added economic and political dimensions.
Bahrain's contribution to regional security cooperation continues to grow. It has embarked on a series of joint exercises with its Arab neighbors, including the Egyptian-Bahraini Hamad 3 maritime exercise. It also hosted the multinational International Maritime Exercise with U.S. Naval Forces Central Command in November 2019.  Source: akhbar-alkhaleej.com