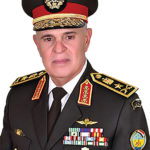 I would like to express my gratitude to U.S. Central Command for its kind invitation to be the commander who introduces this edition of Unipath magazine, which addresses the importance of achieving stability amid terrorist efforts to upset the security of the region.
Egypt's counterterrorism strategy stems from a firm and steadfast position adopted by the Egyptian Armed Forces. The strategy is based on six pillars.
The first pillar depends on countering extremist/terrorist ideologies with enlightened awareness based on the human principles and values of forgiveness and the concept of tolerance established by all divinely established religions.
The second pillar requires confronting terrorist elements using legitimate measures without excessive use of force, and the third relies on the community's support of state efforts in countering terrorism.
The fourth pillar involves employing a comprehensive approach to address the terrorism problem, without restricting it to the security dimension. This can be fulfilled through improving livelihoods and addressing economic, social and cultural discontents.
The fifth pillar focuses on developing moderate religious rhetoric and promoting the roles of Al-Azhar, universities, think tanks and media in raising awareness and supporting counterterrorism efforts. The sixth and final pillar includes Egypt's active participation in international anti-terrorism alliances and international security conventions to combat terrorism.
Based on this strategy, the Egyptian Armed Forces launched the comprehensive Operation Sinai 2018 to eliminate terrorists in north and central Sinai, desert and mountainous areas on the western side, and some areas of the Nile valley and delta that were terrorist safe havens.
Since its commencement on February 9, 2018, Sinai 2018 has achieved significant results, destroying most of the infrastructure and operational bases of the terror group Ansar Bait al-Maqdis, as well as eliminating most of its capabilities and chasing the remnants that fled.
Our forces also imposed tight security on all main roads and routes in north and central Sinai, along with continuing security measures and destroying remaining terrorist hotbeds and tightening our grip on them.
Our heroic forces continue to conduct strict search and inspection operations to eliminate terrorist elements infiltrating our borders and trafficking weapons and ammunition into Egypt. 
To ensure that these gains are maintained, our Armed Forces, in close cooperation with civilian police, continue their fight to uproot terrorism and extremism from north and central Sinai and to strategically secure the western and southern sides of the peninsula. Our forces are determined to achieve the planned objectives of the operation, along with continuing comprehensive Sinai development plans so that its people and the people of Egypt can be safe and secure. 
As you know, all terrorist and extremist groups exploit religious misconceptions and misinterpretations and deviate from the teachings of religions. They incite hatred, strife and violence to impose their false vision on societies.
Such groups then escalate their goals, from achieving political and economic interests to attempting to bring down and divide sovereign nation states to establish their so-called caliphate on a large geographic area of the world, including the center of the Islamic and Arab worlds. Thus, terrorism becomes a transborder phenomenon — no single country is safe against its ramifications, regardless of its religion or ethnicity, state of development, or relative wealth or poverty. 
Our responsibility has grown more complex as terrorists improve their capabilities and resources. Terrorist groups employ revolutionary technology in communications, information and social media to develop innovative means of disseminating takfiri ideology, recruiting new members and issuing instructions to carry out terrorist operations to terrorize peoples and jeopardize international peace and security.
Combating terrorists and their offshoots requires a firm international position and continuing cooperation, along with regional and international coordination of strategies to confront them. Egypt is committed to countering terrorism in all its forms, addressing its ideological roots, draining its sources of financing, and taking all measures necessary to prevent and combat terrorist crimes, in close collaboration with brotherly and friendly countries. 
The message of Islam is a message of peace. In that respect, we object to any attempt to associate terrorism with any religion, ethnicity or culture. Without a doubt, the will and determination of our countries to fight terrorism and extremism will lead to their defeat and protect our homelands and peoples.
Lt. Gen. Mohammed Farid 
Chief of Staff of the Egyptian Armed Forces