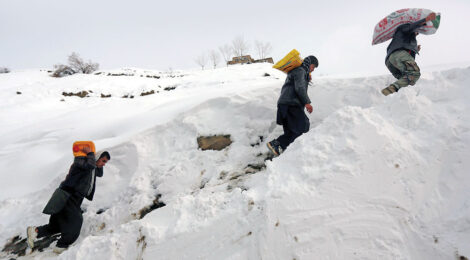 When heavy snow and avalanches left some residents of northern Afghanistan isolated from the rest of the country, Tajikistan agreed to expand free health care for its neighbors to the south.
Tajik Minister of Health Nasim Olimzoda and Afghan Ambassador to Dushanbe Saidmasum Badakhshi met in February 2019 to discuss joint cooperation in the medical field.
Ambassador Badakhshi stressed the need to treat Afghan residents from Badakhshan province in Tajikistan's nearby Gorno-Badakhshan region. Paralyzing winter storms prevented Badakhshan residents from seeking help within Afghanistan. 
Dozens of Afghan citizens received treatment in Tajik hospitals near the Afghan border, a number that Health Minister Olimzoda promised to increase. With financing from the Aga Khan Foundation, Tajik doctors provide medical care to Afghans who are granted visa-free entry to Tajikistan for that purpose. Patients have included wounded Afghan troops. 
A delegation of Afghan doctors arrived in Dushanbe in April 2018 to participate in a congress of cardiologists and therapists from Central Asia and neighboring regions. Olimzoda expressed confidence that the gathering would open new areas of cooperation between the two countries in the medical field.  Sources: Avesta, Interfax, Caravanserai