When COVID-19 struck Afghanistan, the country was suffering from a shortage of medical equipment to fight the virus. But thanks to the ingenuity of five girls in the northern city of Herat, Afghanistan was able to create an inexpensive ventilator from machine parts easily available across the country. The girls — ages 14 to 17 — went online to find a mechanical solution to the ventilator shortage, designing an air pumping device powered by windshield wiper motors from Toyota Corollas no longer in service. "The idea of these machines is that we use them for emergency cases, when there are no professional ventilators. The thing in Afghanistan is, we don't have enough ventilators," said Afghan entrepreneur Roya Mahboob, founder of a program called Afghan Dreamers that brought the teen engineers together. "If we don't have access to anything professional, we can use these ones." Dreamers are selected based on high school entrance exams, and the top students formed the Afghan Girls Robotics Team. Another team is pursuing a device to help farmers pick saffron, and another is working on drones and robots to assist miners. The first cases of COVID-19 in Afghanistan were detected in Herat in February 2020. Authorities issued a plea for more ventilators. Doctors were equipped with hand-operated inflatable bags of the type used by paramedics to force air into patients' lungs on emergency calls. But the machinery needed to produce an automated stream of air proved elusive. Somaya Farooqi, Dyana Wahbzadeh, Folernace Poya, Ellaham Mansori and Nahid Rahimi answered the call to develop a powered prototype that could be reproduced quickly and cheaply. A professional-grade ventilator can cost about $50,000, but the Afghan version would cost about $500. The girls robotics team came across a design released by the Massachusetts Institute of Technology in the United States that required attaching a cheap electric motor to the hand-operated bag. From those beginnings, the Afghan teens figured out that windshield-wiper motors from certain cars would work. With the lockdowns in Herat, the girls team had to be resourceful in finding used automobile parts. "Most of the material we are using is actually from Toyota Corolla car parts," Team Captain Farooqi said. Because Corollas are common in Afghanistan, the ventilators should be relatively simple to reproduce. The design still needs approval by Afghanistan's Health Ministry before being introduced across the country. Afghan Dreamers was created to promote science among Afghan girls, who traditionally have received less education than Afghan boys. In 2017, a previous robotics team attended an international competition in Washington, D.C., where members were lauded for their courage. Initially refused visas to visit the United States, the team was admitted to the country after President Donald Trump intervened in their favor. But little did the Dreamers realize that the COVID pandemic of 2020 would produce a national emergency requiring their talents. Thousands of Afghans caught the disease, and the country had just 400 ventilators for a population of nearly 40 million. "Even if it saves just one patient's life," Somaya said of her team's ventilator prototype, "I'll be happy." Sources: National Public Radio (U.S.), the BBC, The National
Afghan girls build a ventilator using old car parts to help fight the COVID-19 pandemic
UNIPATH STAFF
When COVID-19 struck Afghanistan, the country was suffering from a shortage of medical equipment to fight the virus.
But thanks to the ingenuity of five girls in the northern city of Herat, Afghanistan was able to create an inexpensive ventilator from machine parts easily available across the country.
The girls — ages 14 to 17 — went online to find a mechanical solution to the ventilator shortage, designing an air pumping device powered by windshield wiper motors from Toyota Corollas no longer in service.
"The idea of these machines is that we use them for emergency cases, when there are no professional ventilators. The thing in Afghanistan is, we don't have enough ventilators," said Afghan entrepreneur Roya Mahboob, founder of a program called Afghan Dreamers that brought the teen engineers together. "If we don't have access to anything professional, we can use these ones."
Dreamers are selected based on high school entrance exams, and the top students formed the Afghan Girls Robotics Team. Another team is pursuing a device to help farmers pick saffron, and another is working on drones and robots to assist miners.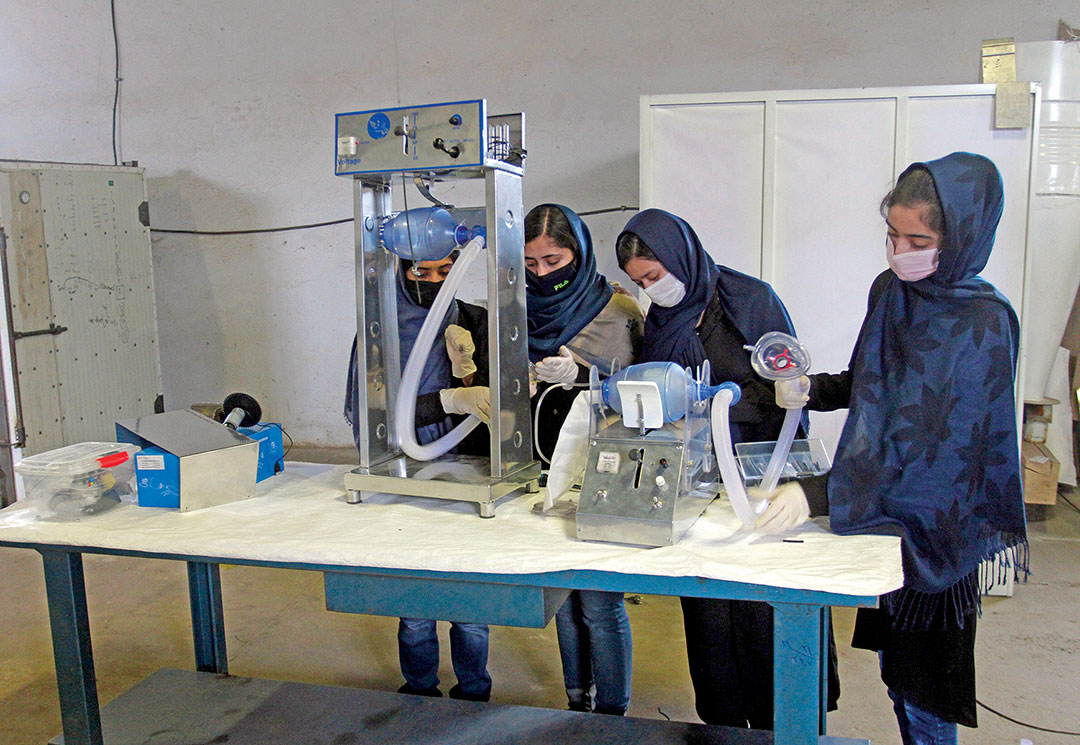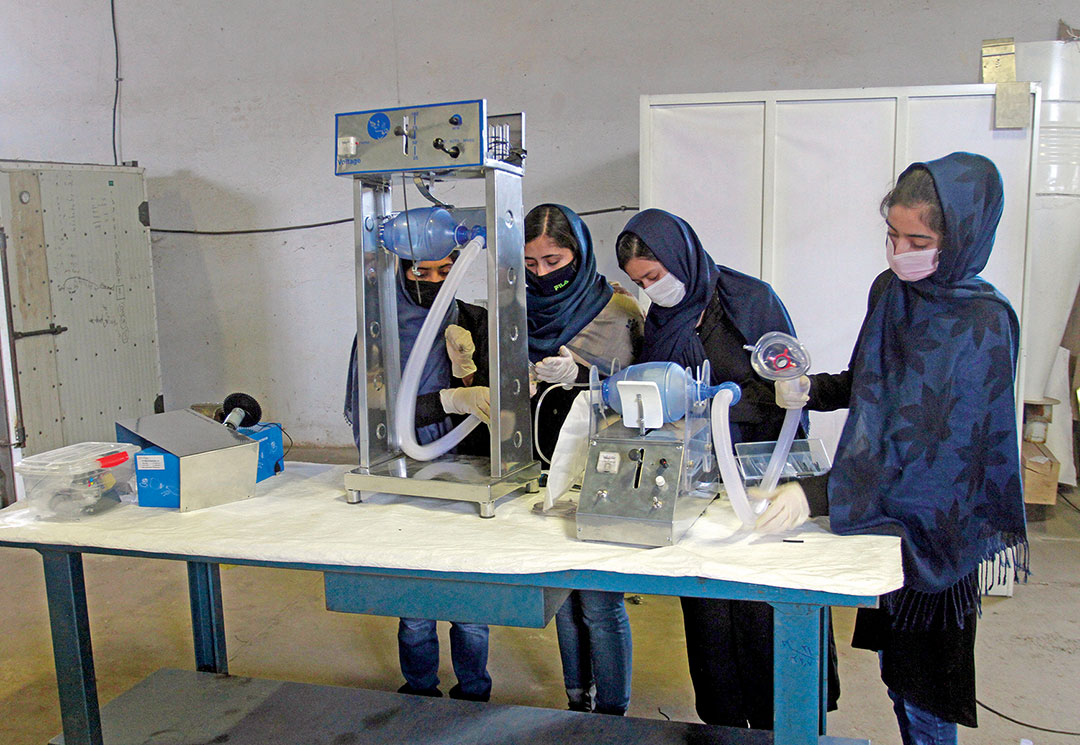 The first cases of COVID-19 in Afghanistan were detected in Herat in February 2020. Authorities issued a plea for more ventilators. Doctors were equipped with hand-operated inflatable bags of the type used by paramedics to force air into patients' lungs on emergency calls. But the machinery needed to produce an automated stream of air proved elusive.
Somaya Farooqi, Dyana Wahbzadeh, Folernace Poya, Ellaham Mansori and Nahid Rahimi answered the call to develop a powered prototype that could be reproduced quickly and cheaply. A professional-grade ventilator can cost about $50,000, but the Afghan version would cost about $500.
The girls robotics team came across a design released by the Massachusetts Institute of Technology in the United States that required attaching a cheap electric motor to the hand-operated bag. From those beginnings, the Afghan teens figured out that windshield-wiper motors from certain cars would work.
With the lockdowns in Herat, the girls team had to be resourceful in finding used automobile parts. "Most of the material we are using is actually from Toyota Corolla car parts," Team Captain Farooqi said.
Because Corollas are common in Afghanistan, the ventilators should be relatively simple to reproduce. The design still needs approval by Afghanistan's Health Ministry before being introduced across the country.
Afghan Dreamers was created to promote science among Afghan girls, who traditionally have received less education than Afghan boys. In 2017, a previous robotics team attended an international competition in Washington, D.C., where members were lauded for their courage. Initially refused visas to visit the United States, the team was admitted to the country after President Donald Trump intervened in their favor.
But little did the Dreamers realize that the COVID pandemic of 2020 would produce a national emergency requiring their talents. Thousands of Afghans caught the disease, and the country had just 400 ventilators for a population of nearly 40 million.
"Even if it saves just one patient's life," Somaya said of her team's ventilator prototype, "I'll be happy."  
Sources: National Public Radio (U.S.), the BBC, The National