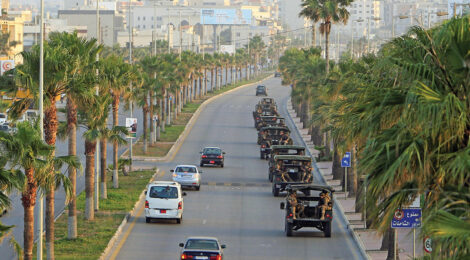 UNIPATH STAFF
Lebanon's military leadership has worked diligently to develop a long-term plan for the improvement of military performance, recruitment and armament to meet major security challenges.
Lebanon's region has experienced nonconventional and asymmetrical warfare. To fulfill its obligations under United Nations Security Council resolutions, the government of Lebanon continues to combat terrorism and maintain national security, but this sometimes clashes with the need for improvements in the military.
The Lebanese Military Improvement Plan is expected to coordinate efforts with friendly countries willing to contribute support to the Lebanese Armed Forces. The international aid received by the Lebanese military is critically needed to meet security challenges.
For example, international support has helped Lebanon protect its land and sea borders. The United States, the United Kingdom and other contributing countries sponsor the land border protection project, while Germany sponsors the maritime border project.
The long-term plan focuses on securing borders and limiting or preventing smuggling; the short-term plan includes a strategy of cooperation between civilians in remote border areas and security forces responsible for border security.
On several occasions, the Lebanese military has shown creativity, efficiency and ingenuity in demonstrating its newly acquired capabilities. A good example was Operation Dawn of the Jerud in August 2017. The military showed tactical flexibility by using Cessna Caravan aircraft to pinpoint Daesh positions that were destroyed with Copperhead M712 laser-guided missiles.
Lebanon noted that the U.S. has provided more than 85% of its recent military equipment, amounting in 2018 to $180 million. U.S. assistance to the Lebanese Army is extensive and includes ground forces, naval forces and air forces. It also aims to enhance capabilities such as fire support, maneuvering, ground combat, anti-tank warfare, close air support, reconnaissance, logistics, border security and training. Training is offered free of charge by specialized American teams.  Source: lebanese-forces.com