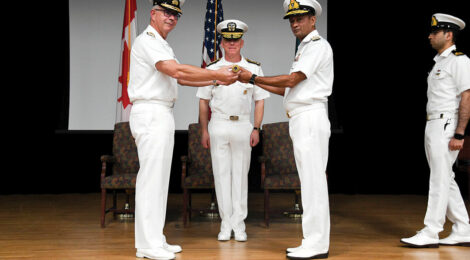 UNIPATH STAFF
The Pakistan Navy assumed control of Combined Task Force (CTF) 150 in April 2019, dispatching a warship to several Arabian Gulf ports as a sign of its commitment to international security.
Pakistan Navy Ship Shamsheer made ports of calls in Bahrain and Oman as part of its deployment to the Northern Arabian Sea and the Arabian Gulf. Pakistan contributes naval forces to CTF 150 and Regional Maritime Security Patrols, which complement each other in protecting international shipping from criminals and terrorists.
Shamsheer first called at Port Mina Salman in Bahrain, where its senior officers attended a change of command ceremony for CTF 150 held at the headquarters of U.S. Navy Central with U.S. Navy Vice Adm. James Malloy.
Pakistan took command of the task force from the Royal Canadian Navy. It was the 11th time in 15 years Pakistan has served in that command role. A reception on the Shamseer was attended by senior naval representative from countries such as Egypt, Iraq and Yemen.
Several days later, Shamsheer was warmly received by the Royal Navy of Oman at Port Sultan Qaboos in Muscat. That visit concluded with a passage exercise between the Shamsheer and Omani naval ship Al Naseer.
Within weeks of Pakistan assuming command, CTF 150 had seized 5,500 kilograms of illegal heroin, methamphetamine and hashish from boats in the Arabian Sea.
CTF 150 is part of the Combined Maritime Forces based in Bahrain.  Source: Combined Maritime Forces