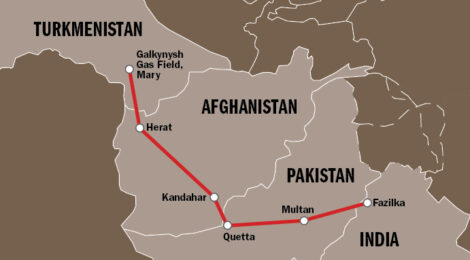 UNIPATH STAFF
In what could be a boon to energy-hungry Central and South Asia, Turkmenistan intends to start construction in 2020 on the Afghanistan part of a vital 1,800-kilometer natural gas pipeline.
The Turkmenistan-Afghanistan-Pakistan-India pipeline, known as TAPI, would deliver 33 billion cubic meters of Turkmen natural gas to its neighbors to the southeast.
Construction of the 800-kilometer Afghan stretch of the pipeline, through Herat and Kandahar, has faced delays, but the Afghan government seeks to conclude land acquisition agreements with Turkmenistan in the first half of 2020.
TAPI is part of a larger strategy to diversify and secure the region's energy supplies. Central Asia lost $6.4 billion in economic benefits between 2010 and 2014 owing to poor connectivity between power suppliers and power consumers, a World Bank report noted. 
Such economic integration also was a topic in December 2019 at a conference to assist Afghanistan called The Heart of Asia-Istanbul Process. Representatives of Central Asian countries emphasized the importance of including Afghanistan in regional infrastructure, trade and transportation projects. Conference participants offered one message: Afghanistan must be seen as a source of opportunity, not a source of problems. 
Representatives from Afghanistan, India, Pakistan and Turkmenistan officially launched the multibillion-dollar TAPI project with a ceremony and a four-way handshake in Herat in February 2018. Construction delays have been attributed to instability in Afghanistan. 
Sources: World Bank, The Diplomat, TOLO News