Stability through Cooperation
Troops from South and Central Asia overcome security challenges at Regional Cooperation 21
UNIPATH STAFF
It was probably inevitable that, at end of a year in which the COVID-19 virus shut down the world, a military exercise would test its training audience in handling a potential epidemic.
Such was the case with U.S. Central Command's Regional Cooperation 21 exercise at Fort Harrison in Montana in June 2021 with troops from Kazakhstan, Kyrgyzstan, Mongolia, Pakistan, Tajikistan, Uzbekistan and the United States.
While conducting patrols along an insecure national border prone to attacks by insurgent groups, 15 Mongolian troops complained of fever and nausea. Insurgents exploited the crisis to harass peacekeeping forces and plant improvised explosive devices.
Commanders ultimately concluded the ailment was little more than ordinary food poisoning, but the lesson was learned: In an era of global pandemics, troops in the field must be prepared for enemies large, small and microscopic.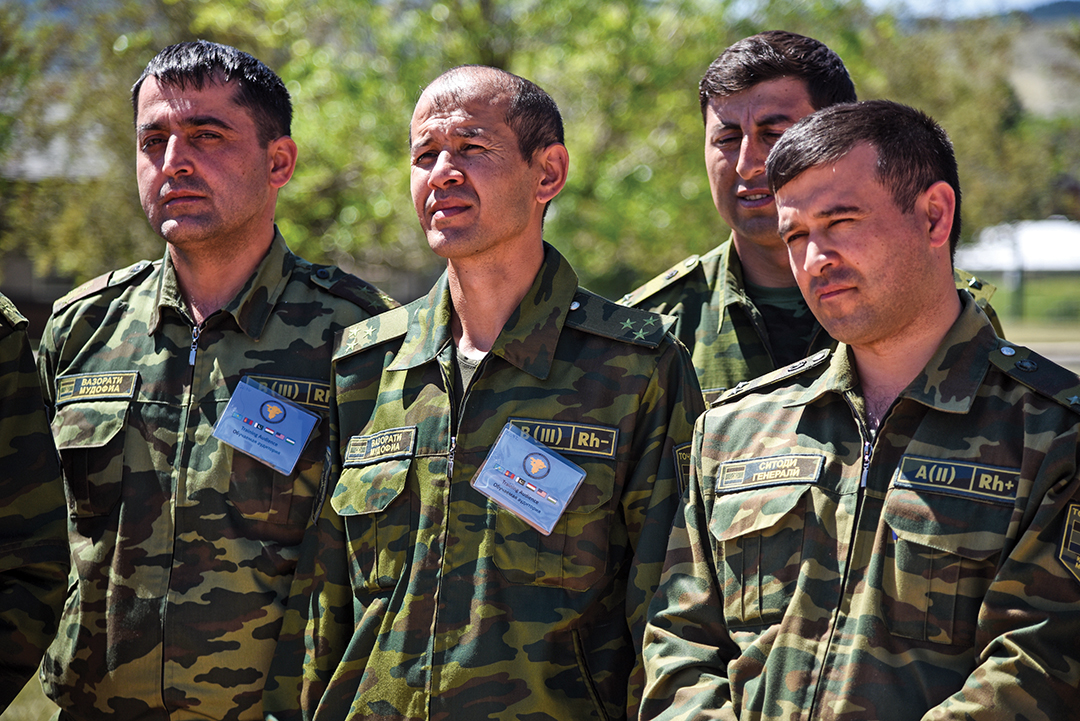 A command post exercise held since 2001, Regional Cooperation has evolved over the years to include complex scenarios requiring coordinated responses from its multinational, multilingual participants. These scripted but plausible scenarios — falling under the heading of stability operations — are designed to test the ability of headquarters staff to react to changing events on the ground.
Troops operating within fictitious multinational battalions provide border security, fight terrorists, disarm mines and improvised explosive devices, and interdict weapons of mass destruction. They handle water and food shortages in camps for displaced people, contain diseases, intercept illegal narcotics and uproot organized crime.
Participants were also called upon to conduct psychological operations. For example, when the fictional terrorist group desecrated a historic building within the task force's area of operations, the coalition highlighted the vandalism on radio broadcasts and won over the population by repairing the site. 
"The primary purpose is to interact with different countries from a similar region and with the U.S. military, which has experience with all types of warfare," said Pakistani Brig. Gen. Shajee Ullah Quadri.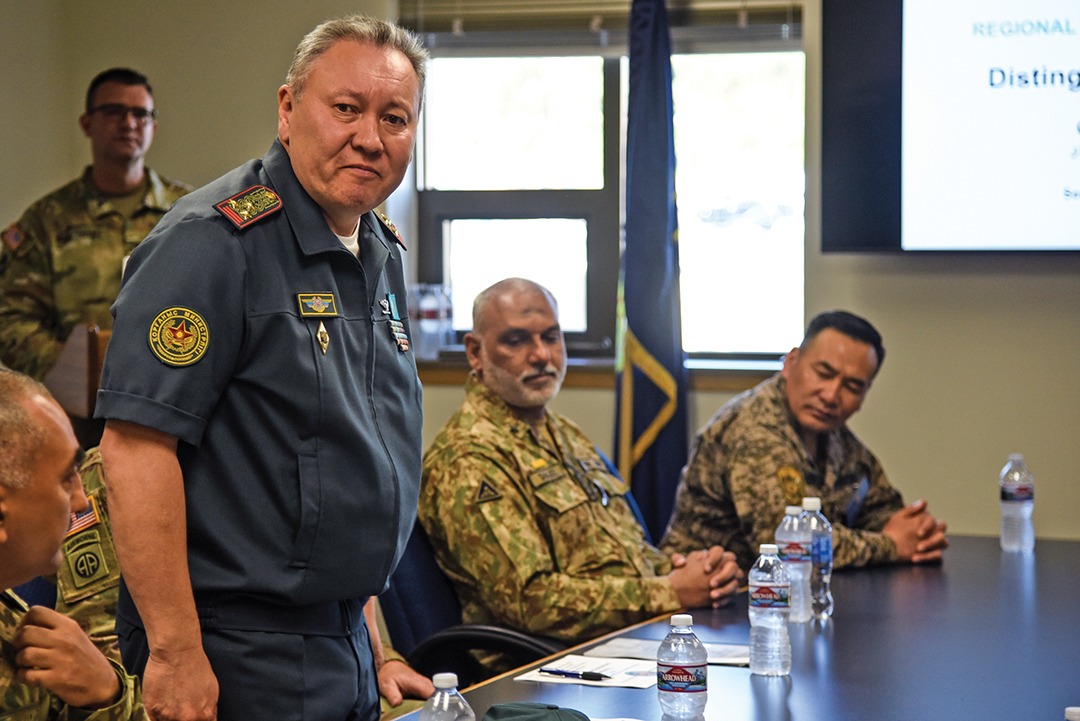 Like many multinational officers at the exercise, Brig. Gen. Shajee was curious about the latest developments in overseas stability operations. A decade earlier he was deployed to the United Nations peacekeeping mission in the Democratic Republic of the Congo, where he had to coordinate with fellow peacekeepers from India and Bangladesh.
"Every country has its own practices. We get a chance to learn these," Brig. Gen. Shajee said of Regional Cooperation. "The scenarios are synchronized by the U.S. and we have a chance to iron out differences between nations."
The head of the Mongolian military delegation, Col. Javkhlanbayar Dondogdorj, said the exercise offers best practices to help his country's military confront regional and international security demands.
"I have been assigned to the U.N. mission to South Sudan, and this can help with my deployment," Col. Dondogdorj said.
Most troops at Regional Cooperation 21 worked within Task Force Patriot, consisting of a battalion each from Kazakhstan, Mongolia, Pakistan, Tajikistan and the U.S.
Uzbek troops, constitutionally constrained in the real world from joining multinational peacekeeping forces, maintained an independent task force at the exercise that nevertheless adhered to the overall goals of the stability mission.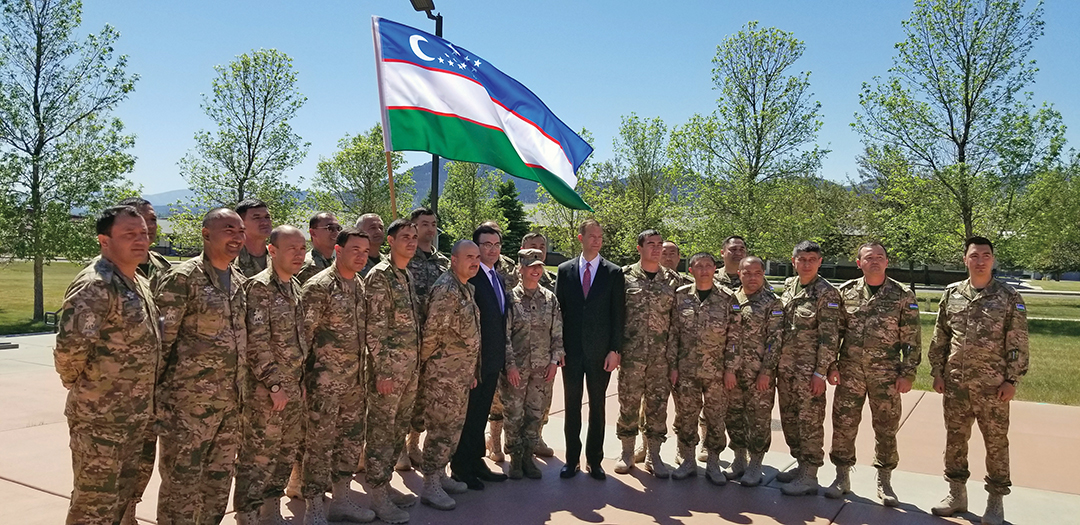 As part of Uzbekistan's goal of raising its profile in multinational exercises, Uzbek Ambassador to the U.S. Javlon Vakhabov arrived in Montana for a distinguished visitor day toward the end of Regional Cooperation. 
Equally conspicuous at the event was the Kazakh defense attache to the United States, Col. Zhenis Nurgaliyev. Kazakhstan hadn't participated in Regional Cooperation since 2013, but sent 15 Soldiers to the 2021 exercise. 
A Kazakh colonel who, with his foreign military counterparts, ran Task Force Patriot praised the exercise for allowing him to observe the military decision-making process of other countries. As his country fine-tunes its military doctrine to address novel security challenges, such information sharing could prove useful, he said.
Regional Cooperation 21 was tailored to the security concerns of participating nations from South and Central Asia, so counterterrorism played an important role. As the exercise has evolved over the years, organizers have expanded the role of special operations forces in combating violent extremists in the scenarios.
At the Montana event, commanders engaged special forces to root out drug smugglers, financiers and arms procurers who supported a fictional insurgent group. They needed to coordinate across national lines to leverage military assets from partner countries. 
For example, the Pakistani battalion included a unit of commandoes, a quick reaction force from which other countries could request assistance. For the purposes of airlifting those troops, the U.S., Mongolia and Pakistan possessed helicopters that other nations didn't. That forced participants to rely on one another for help despite potential language barriers. 
Such role playing had real-world implications for commanders such as Tajik Col. Ruzizoda Dilhsod, who helped direct operations from the task force headquarters staff. Among Tajikistan's top security challenges is drug smuggling across its southern border.
"This is exactly what is needed," Col. Dilhsod said. "Our major concern is the Afghan border. Otherwise, we maintain a peacekeeping battalion that has participated in U.S.-sponsored exercises. This particular exercise is important to our peacekeeping training operations."
Regional Cooperation is the largest U.S. military-to-military exercise involving Central and South Asian nations. As such, participating militaries view it as an excellent way to build partnerships useful for overcoming regional security challenges.
Lt. Col. Richard Weeks, lead planner for Regional Cooperation 21, expressed pride that the June 2021 event was a success.
"Everyone has something they can teach, and everyone has something they can learn," Lt. Col. Weeks said.