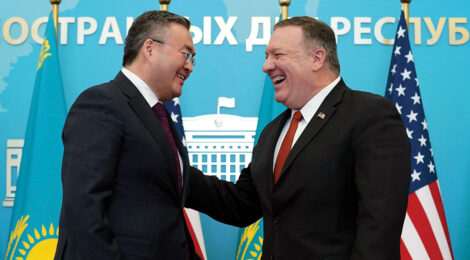 Kazakhstan strengthened its strategic partnership with the United States during an official visit by Minister of Foreign Affairs Mukhtar Tleuberdi to Washington, D.C., in December 2019.
U.S. Secretary of State Mike Pompeo expressed his desire that Kazakhstan play a significant role in restoring stability to Afghanistan and reintegrating it into the region. 
"Kazakhstan is a leader in Central Asia, and the U.S. relies on it as a regional partner," Pompeo told Minister Tleuberdi. "We consider your country an important partner to maintain regional security."
Tleuberdi emphasized Kazakhstan's commitment to stronger cooperation with the U.S., a commitment reinforced by a 2018 visit to Washington by then-Kazakh President Nursultan Nazarbayev.
"We attach great importance to the further expansion of our cooperation with the U.S.," the Kazakh foreign minister said.
Before Tleuberdi's visit, a diplomatic delegation from Kazakhstan met with the Commission on Enhanced Strategic Partnership between Kazakhstan and the U.S. Participants included Kazakh Deputy Minister of Foreign Affairs Yerzhan Ashikbaeyev and Alice Wells, the top U.S. diplomat for South and Central Asian affairs. 
Agenda topics included bilateral cooperation in global and regional security, countering terrorism and drug trafficking, cyber security, and repatriation and reintegration of Kazakh citizens from war zones in Syria and Iraq.
After the visit by the Kazakhs, the U.S. Department of State announced plans to update the U.S. strategy for Central Asia, addressing many of the topics covered by Pompeo and Tleuberdi. 
Sources: Business.com, Platon Asia, U.S. Department of State