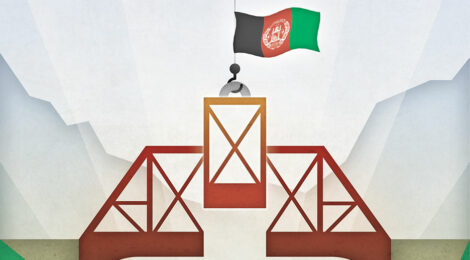 Directors of Military Intelligence Discuss Opportunities to Build Stability in Afghanistan
UNIPATH STAFF Photos by U.S. Central Command
Addressing common security threats, military intelligence leaders from Central Asia and the United States met in February 2019 for U.S. Central Command's fourth annual Central and South Asia Directors of Military Intelligence Conference.
Held in the United States in Tampa, Florida, the three-day conference included security experts and military officials from Afghanistan, Kazakhstan, Kyrgyzstan, Tajikistan, Turkmenistan, Uzbekistan and the U.S. This year's event focused on conflict resolution in Afghanistan. Presentations and discussions focused on current efforts to improve security in Afghanistan.
"Attending and taking part in these conferences is important because we share information about threats from our perspective and learn from others' perspectives," Lt. Gen. Hilaluddin Hilal, deputy defense minister of the Afghan Ministry of Defense Intelligence, told Unipath.
Nestled between Central and South Asia, Afghanistan's geography makes it strategically valuable for neighboring states. One important discussion centered on the connection between terrorists and other criminal groups, such as narcotraffickers, who work together when it's mutually beneficial. Organized criminal groups provide a network of infrastructure and transportation to help move drugs across borders, feeding the coffers of terrorists. The Taliban, for example, cultivate opium in Afghanistan. 
"By sharing information about such routes, it helps us fight terrorism, and similarly, we can also counter narcotrafficking," Lt. Gen. Hilal noted.
Gen. Joseph Votel, then-commander of U.S. Central Command (CENTCOM), explained the goals of the U.S.' South Asia Strategy with respect to Afghanistan and achieving a negotiated settlement with the Taliban through a combination of military, political, social and regional pressure.
International and regional support for reconciliation in Afghanistan is critical, Lt. Gen. Hilal said. "The terrorist threat is not just in Afghanistan," he told Unipath. "If regional countries do not provide support and help facilitate the reconciliation process in Afghanistan, it can definitely have implications on their publics as well, and on their lives. A continuation of support for the peace process is very important from our regional countries."
Also attending the conference as a speaker was Roya Rahmani, Afghan ambassador to the U.S.
"I am optimistic that peace is within reach. There are certainly plenty of hazards on the ground, but the train is shifting toward peace," Ambassador Rahmani said. She noted that two societal changes were helping Afghanistan recover from its legacy of conflict: the country's promotion of democracy and the growing capabilities of its Armed Forces.
"There is a new generation of Afghans that see a new light at the end of the tunnel," the ambassador said. "When young people criticize the administration and demand better, it fills me with happiness. It's a measure of how far we have come. Our citizens expect democracy. They hold us accountable."
She spoke about the many signs of progress across the country, such as judicial reform and improvements in education, health care and democracy. While in Afghanistan during the October 2018 parliamentary elections, she was encouraged even further by citizens' embrace of democracy.
"What most struck me on this trip was a young cab driver I met — a father of five who relied on daily wages for food and shelter," she said. "On day two of the elections, he spent seven hours waiting to vote — seven hours when each hour spent waiting meant less money for his children."
Col. Olimjon Samatov, representative of Uzbekistan's chief of Defense, Intelligence Department, said his country supports the decision to launch negotiations among the key forces in the Afghan conflict without any preconditions or threats of violence. Support from regional and international countries and organizations such as the United Nations is important for the peace process to succeed.
"We are convinced that Afghanistan must remain at the center of the global agenda, and our common resolve to promote peace should not be weakened," Col. Samatov told Unipath. 
Like many of the attendees, the representative from Uzbekistan acknowledged the importance of Afghan stability to regional stability. 
"It is critical for Uzbekistan to use this conference as a tool to discuss new trends and real security problems, have an exchange on important issues and development of effective measures, which provide an opportunity to strengthen regional stability," he said. The country's goal, he said, is to ensure Central Asia remains safe, secure and economically dynamic.
ISIS' loss of territorial control in places such as Syria and the return of foreign fighters from Central Asia create new threats to national defense and regional security. ISIS-Khorasan is adapting by focusing on high-profile attacks in cities. Security forces must continue thwarting these threats from terrorists, violent extremist organizations and transnational criminals. With regional and international cooperation, military intelligence organizations can more effectively thwart terrorist financing efforts, human trafficking, drug smuggling and terror attacks. Coordination and support from Central Asian countries will remain critical. 
The Central and South Asia Directors of Military Intelligence Conference is one of more than 500 military-to-military events supported by CENTCOM each year to share information and build relationships. By openly exchanging ideas, partners can improve security and undermine the nefarious efforts of terrorists and violent extremists.
"By improving international cooperation and information sharing, we can find practical solutions to our common security threats," said Cari Gast-Mulherin, vice director of military intelligence at CENTCOM.  
---
Uzbekistan Supports Afghan Security
COL. OLIMJON SAMATOV, UZBEKISTAN REPRESENTATIVE OF THE CHIEF OF DEFENSE, INTELLIGENCE DEPARTMENT
From Uzbekistan's declaration of independence until today, its foreign policy has centered on the principles of peace, cooperation and mutual respect. Uzbekistan supports the principle of noninterference in the internal affairs of other states and the peaceful settlement of disputes through political means.
One of Uzbekistan's foreign policy priorities is to strengthen friendly and mutually beneficial relations with neighboring countries and other strategic partners. Relations between Uzbekistan and Afghanistan have reached a completely new level, visible in the revitalization of our cooperation in political, diplomatic, commercial, economic, transportation, communications, cultural, humanitarian and other areas.
This trend has allowed our bilateral relations to reach a qualitatively high level of partnership founded not only upon the national interests of Uzbekistan and Afghanistan, but also the objectives of regional security and development in Central and South Asia.
The change in perception of Afghanistan — not as a source of regional problems, threats and challenges but as a strategic asset to develop transregional connections across Eurasia — has proven to be an extremely positive development.
In March 2017, an international conference on Afghanistan took place in Tashkent, Uzbekistan, focused on the peace process, security cooperation and regional connectivity.
The conference resulted in the adoption of "The Tashkent Declaration," which established the basic principles and conditions of peaceful Afghan conflict resolution, development of the negotiations mechanism required to launch communication between the Afghan government and the armed opposition, as well as harmonization of joint international actions required to support such a process. This document is a sign that a unified approach to Afghan conflict resolution and its implementation via joint efforts may make significant contributions to the stabilization of the situation in Afghanistan and the restoration of the nation.
Moreover, Uzbekistan has been strengthening its initiatives through practical involvement with the implementation of a number of projects aimed at restoration of Afghanistan's economy damaged by the long war: Uzbekistan supplies Afghanistan with electric power, erects bridges, builds railroads and highways, provides humanitarian aid and develops cultural contacts.
At the same time, our nation aims at the practical implementation of the following initiatives in the areas of power production, transportation, trade and education vitally important for Afghanistan. 
The first project of note is the Surkhan-Puli-Khumri power line project, 260 kilometers long. Construction of this power line will increase electric power exports from Uzbekistan to Afghanistan by 70 percent, up to 6 billion kilowatt-hours per year.
This power line can become a part of the CASA-1000 project. The project costs $150 million. It should be noted that energy exports to Afghanistan have grown thirtyfold since 2002. Since January 2018, Uzbekistan has reduced the cost of the energy exported to Afghanistan by 35 percent. 
The second project is the construction of railway lines connecting Mazar-e Sharif with Herat and Mazar-e Sharif with Kabul and Peshawar, Pakistan. The first line will be an extension of the Hairaton-Mazar-e Sharif railroad line; the second will become a part of the transportation corridor to connect the European Union, Russia, Uzbekistan, Pakistan, India and Southeastern Asia nations.
The launch of the Mazar-e Sharif-Herat project, costing approximately $3 billion, will make a significant contribution to the economic recovery of Afghanistan. It will provide employment for 30,000 Afghans and make it possible for Kabul to receive up to $500 million in transit fees. It is predicted that the project will allow for the movement of 5.3 million tons of cargo during the first year, with subsequent growth to as many as 15 million tons per year.
Moreover, the Surkhan-Puli-Khumri-Doshi-Surabay-Jelalabad-Peshawar power line is to be built alongside the new railroad, which will provide it with electricity.
The third project Uzbekistan is supporting is the training of Afghan specialists. An educational center for the training of Afghan citizens was established in Termiz. Its principal task is to educate and train specialists based on higher educational curricula (17 programs) and professional education curricula (16 programs). About 130 students study at the center. Training lasts two years and culminates in the granting of a bachelor's degree. There are plans for the center to expand.
Boosting trade with Afghanistan is another important focus for Uzbekistan. An international logistics center called Termiz Cargo with a customs terminal has been established in Termiz. The center is to promote export-import and transit cargo flows between the two nations with an opportunity to reach European and Asian markets. 
A number of commercial operations producing finished commodities required for Afghan projects and programs are planned as part of the specially created economic free zone Termiz.
Uzbekistan is also considering establishing cooperation with Afghanistan in vehicles, agricultural equipment and textile production. In addition, Uzbek specialists are considering assisting Afghans to develop promising deposits of oil and gas in northern Afghanistan.