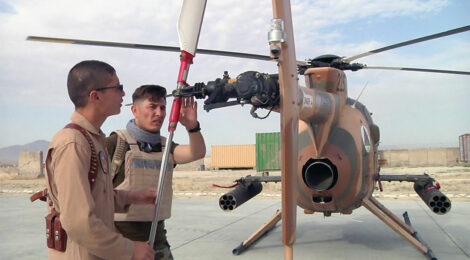 SGT. JORDAN TRENT, U.S. ARMY
In conflicts that the Afghan National Defense and Security Forces (ANDSF) has with the Taliban and ISIS-Khurasan (ISIS-K), the ability to conduct battle from the air can decisively change the situation on the ground.
The dynamic security environment of Afghanistan requires a strong security force that can prevent enemies from seizing ground and threatening the country's stability. To do this, ANDSF has to keep pace with the techniques of modern warfare without relying on foreign assistance.
Chief Warrant Officer 2 William Knox of the U.S. Army National Guard, lead advisor for aviation to the 201st Selab Corps of the Afghan National Army, has been training, advising and assisting his Afghan counterparts in requesting and executing airstrikes with Afghan equipment.
Two of the strongest assets within the Afghan military are the MD530 attack helicopter and the A-29 Super Tucano, a light-attack fixed-wing aircraft, which provide powerful air superiority against the Taliban, ISIS-K, and the other extremists fighting ground campaigns in Afghanistan.
"The Afghan Air Force is currently maturing, and the capabilities are starting to really evolve," Knox said in April 2019. "One of the things I push for in aviation advising is trying as best as I can to pull back from being reactive by immediately providing them coalition assets. I'm willing and patient enough to ask them what they can bring to the table first."
The A-29 can be used for deliberate strikes and close air support that Soldiers on the ground can use to turn the tide of the fight, among many other roles such as reconnaissance, escort and shows of force. The Afghan ground forces have traditionally viewed the A-29 as a deliberate strike platform, while the MD530 has satisfied the role of close air support, though both airframes can conduct other roles such as convoy escort and aerial escort.
However, using these capabilities requires complex coordination to ensure safety, accuracy and effectiveness.
"I started early on with my counterpart by saying I don't know when we're leaving the country. It could be two weeks, two months, two years. I can't tell you that. I can tell you at some point in time we are leaving, and the reliance on us to provide air support can't be the only solution," Knox said. "So, let's work to figure out an Afghan solution that will endure past us. An Afghan solution is a thousand times better than a U.S. one."