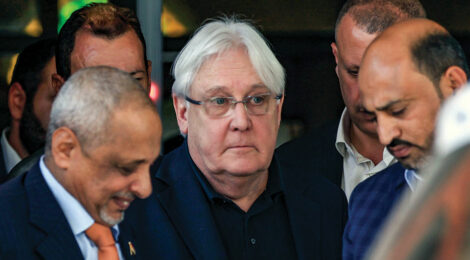 The warring parties in Yemen ended 2018 by agreeing to a cease-fire in the city of Hodeida, the main lifeline of two-thirds of the country's population.
The two sides reached an agreement after talks in Sweden mediated by the United Nations. U.N. Secretary-General Antonio Guterres said he hoped it would be the starting point for ending the nearly four-year civil war that has killed thousands and caused a humanitarian crisis. The leaders of the Yemeni government and the Houthi rebels shook hands after the cease-fire was agreed upon.
 Hodeida is one of the areas controlled by the Houthi. According to the agreement, the Houthis and government forces would withdraw from Hodeida, to be replaced by local forces, according to the U.N. Houthi forces also planned to withdraw from Salif and Ras Issa ports.
Secretary-General Guterres said the U.N. will play a leading role in controlling the port and will help distribute aid to civilians, dubbing the agreement "a starting point for peace and an end to the humanitarian crisis in Yemen."
Guterres expressed hope that the country could reopen Sanaa airport and continue peace negotiations to end fighting that began in early 2015 when the Houthis took over most of the west of the country and forced President Abed Rabbo Mansour Hadi to leave office.
In early January 2019, Yemeni Foreign Minister Khalid al-Yamani said that President Hadi agreed during his meeting with Martin Griffiths, the U.N.'s envoy for Yemen, to extend the Hodeida agreement into the new year.
Sources: BBC, youm7.com