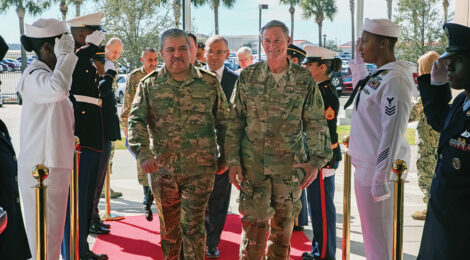 Photos by TOM GAGNIER/U.S. CENTRAL COMMAND
Solidifying his country's security partnership with the United States, then-Uzbek Minister of Defense Gen. Lt. Abdusalom Azizov visited U.S. Central Command (CENTCOM) headquarters in January 2019. 
Uzbek and U.S. military leaders discussed security and stability in Central Asia, Soldier training, joint exercises and other issues concerning the two countries' defense ministries. 
For example, Uzbek troops participated in CENTCOM's Regional Cooperation exercise in September 2018 with forces from Tajikistan, Afghanistan and Mongolia. 
"Uzbekistan is an important partner, and we have a strong military relationship," said then-CENTCOM Chief of Staff Maj. Gen. Erik Kurilla. "We applaud the country's support and leadership toward stability and security efforts in the CASA [Central and South Asia] region." 
During the CENTCOM visit, the Uzbek delegation learned about the Joint Strategic Analysis Group and the Coalition Coordination Center.
Before arriving at CENTCOM headquarters in Florida, Gen. Lt. Azizov visited Camp Shelby Joint Forces Training Center in Mississippi to observe Uzbekistan's special operations forces participating in the Southern Strike joint force exercises, hosted by the Mississippi Air National Guard. 
The two-week exercise focused on counterinsurgency, air supremacy, close air support, casualty care, noncombatant evacuation, and maritime and riverine special operations. Troops from Canada, the Netherlands and Chile also participated.
Although Uzbek Soldiers have trained with the Mississippi National Guard through the U.S.-sponsored National Guard State Partnership Program, Southern Strike was the first time Uzbek special operations forces had joined a military exercise in the U.S.
Sources: Combat Readiness Training Center-Mississippi National Guard, Uzbek Ministry of Defense