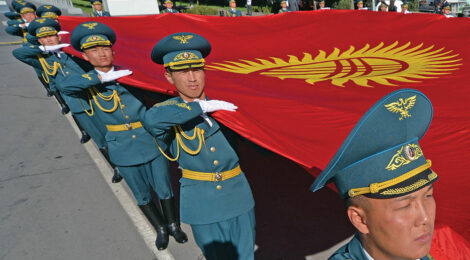 As part of a European Union focus on improving security in Central Asia, EU Special Representative to Central Asia Peter Burian visited Kyrgyzstan in November 2018 to solidify bilateral relations.
Europe has stressed the need to support Kyrgyzstan and the region to improve border security, business and investment, private sector development, education and training, and good governance.
Those goals are enshrined in a new EU-Central Asia strategy that Europe and the five Central Asian states plan to adopt in 2019. Hosting the latest EU delegation, Kyrgyz Foreign Minister Chyngyz Aidarbekov noted that the EU is a foreign policy priority for his country.
In a show of commitment to the region, the EU has pledged 85 million euros to secure uranium waste dumps throughout Central Asia, including Kyrgyzstan's Mailuu-Suu, Min-Kush and Shekaftar sites.
Kyrgyzstan has taken a leading role in promoting parliamentary democracy in Central Asia. The EU aims to encourage these political developments by allocating 13 million euros toward judicial reform in Kyrgyzstan.
In December 2018, Germany promised Kyrgyzstan a grant of 40 million euros to support economic development, housing and health care projects. The grant includes $2 million euros to manage and protect the country's walnut forests.