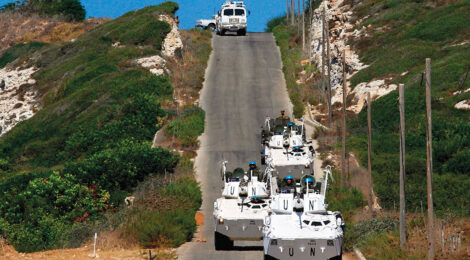 UNIPATH STAFF
Lebanese Armed Forces and their Italian, French and Spanish partners conducted counterterrorism drills with field artillery, machine guns and anti-aircraft batteries in September 2019.
The Iron Storm military exercise took place in South Lebanon's Ras Nagoura district and involved European troops with the United Nations Interim Force in Lebanon (UNIFIL). Exercise organizers simulated terrorist attacks requiring artillery and machine gun fire to repel them.
 Lebanese troops from the 5th and 7th infantry brigades deployed in the districts of Sour and Marjayoun for the exercise, whereas the 5th Intervention Regiment was positioned in the South Litani region. Italian, Spanish and French troops fanned out in other sectors. UNIFIL Commander Maj. Gen. Stefano Del Col and Lebanese Brig. Gen. Rogeah Al Helou served as exercise directors.
Exercise organizers praised troops for their ability to hit simulated targets with precision using 105 mm field artillery, M113 armored personnel carriers equipped with anti-aircraft guns, and 12.7 mm heavy machine guns.
 Iron Storm represented close coordination and cooperation between UNIFIL and the Lebanese Armed Forces in their quest to deter aggression. Gen. Del Col promised further exercises to raise troops to the highest level of readiness.
Brig. Gen. Al Helou also commended the joint efforts. "We are learning how to use our weapons rightly and effectively to confront potential enemies," he said.  Source: Al Jumhurriya