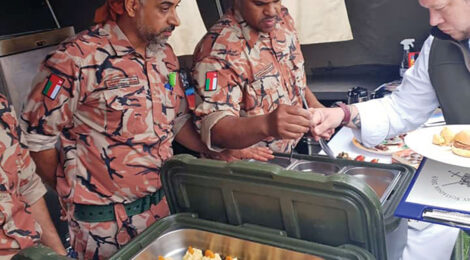 UNIPATH STAFF
The Royal Army of Oman proved itself a champion in preparing meals for Soldiers in the field. Omani military cooks participated in an annual British competition called Exercise Army Sustainer in the United Kingdom in May 2019.
Using army stoves in difficult outdoor conditions, the Omani team managed to make flat bread stuffed with vegetables, meat, dessert and other dishes that were sampled by judges in military tents.
Oman, the U.K. and the United States sent participants to the exercise, designed to test each military's ability to feed its troops in the field, sometimes by forcing cooks to improvise with random ingredients. Dozens of teams competed.
It was Oman's first time competing in Army Sustainer, and cooks spent time before the competition training with British partners. The training paid off: Omani Soldiers triumphed over the competitors in making meals for troops on the move.