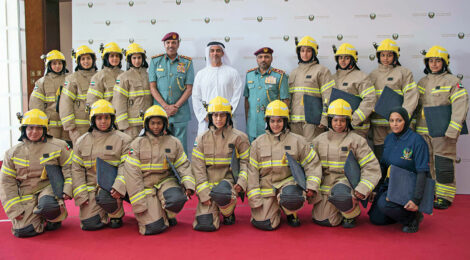 UNIPATH STAFF
The United Arab Emirates certified its first
15 female firefighters, who received congratulations from His Highness Sheikh Mohammed bin Zayed, crown prince of Abu Dhabi and deputy supreme commander of the UAE Armed Forces.
Sheikh Mohammed called the firefighters, who graduated from an all-female firefighter course in Sharjah, "true partners" in the development of the nation.
"The UAE, under the leadership of President His Highness Sheikh Khalifa bin Zayed Al Nahyan, set women's empowerment on top of the country's national priorities," he said.
The women received six months of basic training and another three months of vocational training with police and civil defense academies in Sharjah.
"This kind of job used to be done by men, and I consider myself as equal to men," firefighter Maitha Ali Al Katbi said.
"My husband is also a firefighter, so he supports me a lot."
With its sweltering summer climate, plethora of high-rise buildings and busy ports, the UAE places tough demands on firefighters. Sylvain Theriault, firefighting director of the Emirates Civil Defense Training Academy, said the country is addressing a shortage of firefighters by offering women-only courses.
"The job is not just about strength and fitness, it is also about thinking in difficult situations and resolving problems under pressure; women are very good at that," Theriault said.
"If a woman is trapped in a building or vehicle, it is sometimes preferable to have a woman handling that situation, so we welcome more women to become trained up for jobs in the fire service industry."  Sources: Khaleej Times, Emirates Woman