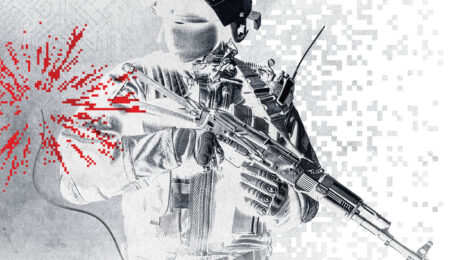 Countries confront opponents who avoid direct engagements in favor of indirect attacks
UNIPATH STAFF
Ukraine was embroiled in a dispute with Russia in 2016 over possession of territory near the Black Sea when the lights went out for hundreds of thousands of electricity customers.
Russia's public denial that it had tampered with the Ukrainian power grid proved hollow. The United States attributed the cascading cyber attacks to Russian-sponsored actors.
Such aggression is one instrument in the toolkit of hybrid warfare. Although definitions vary, hybrid warfare includes the use of propaganda, economic disruption and proxy forces to supplement conventional fighting. Some of its modern practitioners include Russia and Iran, countries that seek lower cost means to conduct hostilities with plausible deniability to evade retaliation.
With a view to examining these hybrid threats, U.S. Central Command hosted the Central and Southeast Asia Directors of Military Intelligence Conference in February 2020. Military officers from Afghanistan, Kazakhstan, Kyrgyzstan, Pakistan and Uzbekistan shared their impressions of hybrid warfare as experienced by their nations' militaries.
Speeches and panel discussions with experts in the field — encompassing the topic of hybrid warfare conducted by Iran, Russia and South Asia — filled out the three-day event in Tampa, Florida.
Col. Olimjon Saidkulovich Samatov, Uzbekistan's chief of military intelligence, noted that his country was among the first in the region to encounter religious extremists using tactics borrowed from hybrid warfare. The transformation of warfare from direct confrontation to indirect manipulation requires countries to share intelligence to repudiate it, he said.
"The goal of hybrid warfare is to destroy the sovereignty of a country without overtly seizing territory," Col. Samatov said.
Afghanistan's experience
Afghanistan has been on the front lines of hybrid warfare. As the Taliban fail to win on the battlefield, they have turned to hybrid warfare in an attempt to exert influence. The strategy involves the use of media disinformation, infiltration and assassinations, terror attacks and avoidance of pitched battles against superior forces.
"The nation of Afghanistan has endured tremendous sacrifices," Lt. Gen. Hilaluddin Hilal, the country's deputy minister of intelligence, told conference attendees. 
Yet supporters of the Taliban have reason to be disappointed with the results. Despite a 19-year destabilization campaign, the Taliban have failed to overthrow Afghanistan's elected government. The terror group remains diplomatically isolated and unpopular, spending most of its time killing fellow Muslims. The growing strength of Afghan government forces deprives Taliban forces of any hope of military victory.
Iranian hybrid tactics

When it comes to Iran, the use of hybrid tactics has allowed the country to project power in a majority Sunni region without embroiling the country in direct conflict. Armed surrogates give Iran flexibility and deniability in conducting foreign policy.
Over the decades, Iran has manipulated Arab and Afghan fighters to reduce the need to deploy Iranian troops. For example, during the Iran-Iraq War in the 1980s, Tehran drafted ideologically aligned Afghan units to die fighting Saddam Hussein's forces.
But conference attendees noted that adoption of hybrid techniques comes at a cost. Proxies have interests that sometimes diverge from their national sponsors. These proxies — located in unstable countries such as Syria and Yemen — can unpredictably escalate conflicts to the detriment of those sponsors.
And deniability becomes ever more difficult when Iranian weapons are found in Yemen in contravention of United Nations Security Council embargoes.
Russian activity

Compared to Iran, Russia employs hybrid tactics that are "ideologically promiscuous," meaning Moscow doesn't hesitate to support even violent religious extremists with aspirations other than its own, said Dr. Maria Snegovaya of the Johns Hopkins University School of Advanced International Studies.
In devising ways to challenge its perceived international rivals, Russian leadership has handed the initiative to individual agents to act as startup companies to do the nation's dirty work, she said. That differs from the top-down planning of the Soviet era.
She divided Russia's hybrid tactics into three categories: black, gray and white. Black is computer hacking, the use of sexual entrapment, theft of state secrets and other traditional spy craft. Gray tactics involve the use of websites to spread disinformation that can be amplified by "useful idiots" and "fellow travelers."
On the white end of the spectrum are internationally recognized media outlets such as Russia Today and the Sputnik news agency that nevertheless tailor news reports to conform to the views of the Russian leadership.
Lt. Gen. Hilaluddin noted that Russian disinformation has attempted to provoke suspicion among Afghans and their Central Asian neighbors by propagating a false rumor that Afghanistan protects ISIS. This disinformation occurs despite Kabul's destruction of the largest ISIS force attempting to hide in Afghanistan.
"We will never use our borders to send terrorists to our neighbors," Lt. Gen. Hilaluddin said.
Strength through unity

Lt. Gen. Mohammad Farid Ahmadi, head of the Afghan National Army Special Operations Command, suggested hybrid threats would continue even if Afghanistan's political factions sign a peace agreement.
Some regional powers would want to maintain political leverage in the country, wrongly viewing Afghan unity as a threat. The general views that strategy as counterproductive. 
"If our neighbors help Afghanistan, they actually help themselves," Gen. Ahmadi said.
National representatives at the hybrid warfare conference expressed support for maintaining open communications among countries of the region, even if relations have been bumpy in the past.
It's only by working together and sharing intelligence that regional militaries can manage the challenges of hybrid warfare.
As one Central Asian commander said: "No single nation can resist such threats alone. Only together can we win."  
---
Common components of hybrid warfare
use of proxy forces/nonstate actors
economic pressure
subversive and covert activities
cyber attacks/disruptive technology
disinformation campaigns
irregular warfare
---
Why some countries prefer hybrid warfare
deniability
flexibility
relative low cost
avoidance of direct conflict
amplification of power