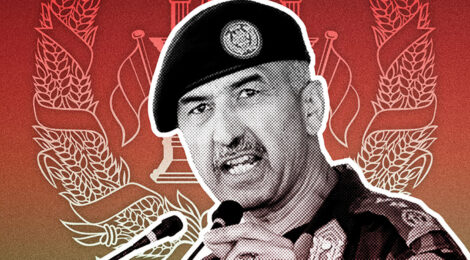 Lt. Gen. Mohammad Farid Ahmadi innovates and inspires as head of the Afghan National Army Special Operations Command
UNIPATH STAFF
The terrorist group ISIS-Khorasan has nearly been eradicated in Afghanistan, its leader ignominiously killed hiding in a mosque, his lieutenants surrendering to Afghan forces.
Eighteen Taliban prisons were raided and 500 Afghan prisoners released. Taliban fighters no longer gather in large numbers for fear of becoming targets. For much of the year their leaders skulk in safe havens beyond Afghanistan's borders lest they be killed.
Much of that success is a tribute to the fighting talents of the Afghan National Army Special Operations Command (ANASOC). Lt. Gen. Mohammad Farid Ahmadi, who assumed command of special operations in 2019, has been instrumental in improving the performance of these highly trained troops whose ranks have swollen by thousands over the past decade.
"They are time proven, battle hardened, experienced Soldiers," Lt. Gen. Ahmadi told Unipath during an interview in February 2020.
Lt. Gen. Ahmadi's Soldiers have racked up continuous tactical victories over the Taliban and other terrorist groups that have tried to infiltrate Afghanistan. It's a source of pride to the commander that his troops conducted 1,065 operations in the 10 months prior to February 2020 without any reports of civilian casualties. 
Close to 1,400 ISIS fighters surrendered to his men in Nangahar province in 2019, including the non-Afghan fighters he sarcastically dubs "foreign tourists." That gives the lie to Russian propaganda that maligns Afghanistan as an incubator for ISIS.
"We eradicated ISIS in the north, giving a strong message to regional partners that Afghans — with the help of our partners — are sincerely and honestly destroying terrorist groups," the general said. "Terrorists have three options: Die, leave or go to jail."
The general joined the Afghan Army in the 1980s and, like many Afghan military leaders, endured the Taliban years in career limbo. In 2006, when the country hand-selected troops to establish its first commando unit, it filled its ranks with then-Lt. Col. Ahmadi's battalion, known for its discipline, professionalism and high morale. This nascent force spent months in Jordan receiving specialized training.
The skills of special operations troops, strengthened by the country's helicopter-equipped Special Mission Wing, continue to frustrate the Taliban's pretentions of military parity. In 2019, the Taliban's leadership bragged about an offensive that would capture and hold three cities and 10 districts in Afghanistan. They failed. 
"We choose the time, space and targets, not the Taliban," Lt. Gen. Ahmadi said.
It's noteworthy that the successful prison rescues achieved by ANASOC were planned and led by junior officers, highly motivated lieutenants and captains nurtured on an updated Afghan military doctrine that stresses initiative at the platoon and company level. The Afghanistan military spreads that doctrine using mobile training teams that fan out across the country to improve the capabilities of non-elite Army and police units.
"Company and platoon leaders leading missions? That couldn't have been done 10 years ago," Lt. Gen. Ahmadi said.
Yet the general refuses to rest on his laurels. He supports a five-year plan to improve Afghan military forces even further.
He wants to thoroughly incorporate lessons learned from the field into the curriculum at military schools of excellence. Part of that includes developing future military leaders from among the ranks of junior officers. 
Another component of the plan is refining and updating Afghanistan's military doctrine to address potential new threats. "The nature and types of terrorism are evolving," the general said.
Foreign powers continue to equip the Taliban and its supporters with sophisticated weapons, including night vision goggles, drones and improvised explosive devices. The enemy's media campaign continues to delude its audience with misinformation, fake news and distortions of religious texts.
The capstone of the plan would be the establishment of what he calls a Security Coordination, Cooperation and Intelligence Operations Center in Kabul. He invites all the Central Asian states to join, so that Afghanistan can serve as a secure bridge between South Asia and Central Asia.
"Afghan stability directly affects the entire region," Lt. Gen. Ahmadi said. "If our neighbors help Afghanistan, they actually help themselves."
The general expressed gratitude to the United States, its military and its taxpayers for the expenditure of blood and treasure in the cause of liberating and stabilizing Afghanistan. If the country is to remain secure, it needs a sustained relationship with the U.S. and its coalition partners, he said. 
Said Lt. Gen. Ahmadi: "Afghans deserve peace with dignity and a life just like other nations."