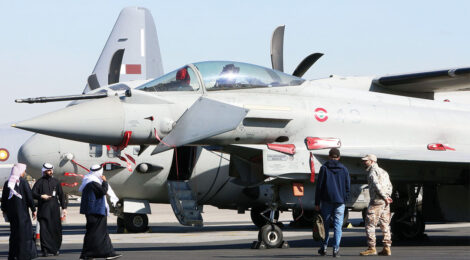 UNIPATH STAFF
The Kuwait Aviation Show drew 60,000 visitors to gawk at demonstrations by Kuwaiti, Saudi, Emirati, Qatari and U.S. military pilots in the January 2020 skies above Kuwait City. It was the second time Kuwait had held the air show, and organizers attracted 200 aerospace companies and 70 commercial and military aircraft from 37 countries.
"This important event creates an opportunity for officials and experts in the field of civil and military aviation to get together and discuss ways to advance the aviation industry and to be acquainted with the latest developments in this sector," said lead organizer Sheikh Salman Sabah Al-Salem Al-Hamoud Al-Sabah.
Kuwait aspires to be a regional center for aviation and a major hub between Europe and Asia. That ambition is enshrined in the country's "New Kuwait Vision 2035."
Among the performers at the show were the Royal Saudi Air Force aerobatics team, the Emirati Air Force's Al Fursan team, Qatar's skydiving team and Kuwaiti F/A-18 pilots. U.S., Italian and British pilots also demonstrated the capabilities of their high-performance aircraft.
The show also provided an opportunity for manufacturers to market commercial and military airplanes and helicopters, navigation systems and other aviation equipment. 
The second Kuwait Aviation Show surpassed attendance achieved by the country's first air show in January 2018.  Source: Kuwait News Agency