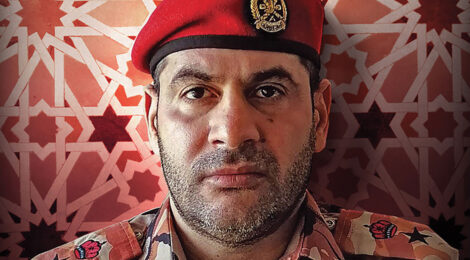 Lt. Col. Hamed bin Ibrahim Al-Bouromi Trains Oman's WMD Prevention Branch
Story and photos by UNIPATH STAFF
In times of asymmetric warfare, elite units become preoccupied with protecting their countries from the lethal threat of weapons of mass destruction (WMD). In such a context, states have begun to develop their preventive capabilities in preparation for all eventualities. Unipath met with Lt. Col. Hamed bin Ibrahim Al-Bouromi, Oman's 1st staff officer for WMD prevention, during a recent exercise with experts from U.S. Central Command:
Unipath: What is your impression of this joint exercise between Oman's Armed Forces and its American partners?
Lt. Col. Al-Bouromi: This exercise, carried out in partnership with the United States in the field of WMD prevention, is of great importance to the Sultan's Armed Forces (SAF) and the Ministry of Interior's Public Authority for Civil Defense and Ambulance (PACDA). The exercise began in 2016. It simulates threats and events that have already occurred on the ground in various places around the world, those posed by chemical, biological and radiological weapons. It's no secret that the Middle East and the Arabian Gulf are experiencing tensions, so it is imperative that we be prepared to confront any scenario by increasing the capabilities and on-the-ground competences of specialized forces in the field of WMD prevention and helping WMD-prevention personnel gain experience and learn about modern tactics so they can perform their duties. In fact, the Americans have experts in this field, so their presence with us is an invaluable opportunity to learn from them and share with them what we know.  
Since the exercise began in 2016, as I mentioned, we have been developing and updating its activities to coincide with the evolution of hostile threats and tactics, subsequently developing equipment and techniques used in WMD prevention.
Unipath: Tell us more about the evolution of the exercise in recent years.
Lt. Col. Al-Bouromi: Initially, the training curriculum was simple. It was about getting to know each other's capabilities and sharing contexts and expertise. Over the past year, in cooperation with our American partners, we've tried to develop the expertise of young officers in established operational procedures and the leadership skills of platoon and company commanders in the field to effectively respond to any emergency that occurs in their area of responsibility. Although the exercise focused on how to coordinate and interface operationally among units operating in the same sector — since forces no longer work alone to counter threats — we added a raid scenario in an abandoned building suspected of being used by a terrorist group to manufacture chemical bombs for use in attacks.
Unipath: What are your plans for improving the capabilities of SAF WMD-prevention personnel?
Lt. Col. Al-Bouromi: SAF operates according to a five-year plan, and God willing, the next five-year plan will culminate in a major exercise similar to 2018 with Shomoukh 2 and Swift Sword 3. Our forces working in WMD prevention have proven they have the ability and professionalism to deal with any event, whether it's in the theater of operations or in civilian areas subject to chemical weapons attacks, incidents or radioactive materials. Our next plan is for the year 2020-21. We will conduct a large-scale exercise with scenarios that simulate events or attacks with radioactive materials and how forces should deal with them. We will also try to involve specialized civilian agencies to supplement the SAF and PACDA operationally.
Unipath: How important is training with a strong partner like the United States?
Lt. Col. Al-Bouromi: We actually have very strong and robust ties with the United States that go back almost two centuries. Sent in 1840, Ahmad bin Na'aman Al Kaabi was the first Omani ambassador to the United States. Our relationship with a superpower like the United States in all fields, especially the military, cannot be overstated. The United States and U.S. forces have in-field and academic experience to go along with highly effective and precise military equipment. Over the last century, U.S. troops have engaged in numerous battles in inhospitable terrain under challenging weather conditions all over the world. An Army like that certainly has a lot to offer an Army like SAF that is eager to learn and willing to do whatever it takes to protect its country and people. We benefit greatly from joint exercises with U.S. forces both inside and outside the U.S. We learn a lot when visiting time-honored institutions and training centers by getting an inside look at the curricula and courses they use. The Americans, on the other hand, are benefiting from our expertise and knowledge of the region and methods for adapting to the weather and terrain of the Gulf. They also benefit by learning about the Arabic language and the cultures and traditions of our region.
Unipath: How would you rate the training results?
Lt. Col. Al-Bouromi: As leaders and supervisors of the exercise, we're satisfied with the results and have noticed significant improvement from last year. We are making extensive use of standardized concepts and operational overlap among incident response teams. We are also updating our tactics and developing new scenarios that simulate the latest developments worldwide, putting us in a position to respond appropriately to various threats and risks. This makes us happy with the results achieved and encourages us to engage all stakeholders like medical services and others. At present, we recognize that medical services play an important role evacuating the injured and saving lives. This is a priority in dealing with events.
Unipath: How do you plan to repeat this joint exercise scenario during the year?
Lt. Col. Al-Bouromi: We try to review the exercise scenarios and implement them on our own to make sure we have mastered all the steps we took with the Americans. We also have an annual training plan for the Royal Army of Oman, the Royal Navy of Oman and the Royal Air Force of Oman, and ongoing reconnaissance and decontamination courses for officers and noncommissioned officers. The chief of staff of the Armed Forces adopts operational and educational development plans, including participation in international conferences, workshops and symposiums arranged by the Organization for the Prohibition of Chemical Weapons and the International Atomic Energy Agency.
Unipath: The personal protective equipment worn by Soldiers may limit their endurance and ability to work in adverse conditions. How do you build Soldiers' physical resilience?
Lt. Col. Al-Bouromi: We have year-round exercises to improve capabilities and maintain readiness in the area of WMD prevention. We live in a region with high summer temperatures. Wearing chemical and biological weapons protective equipment like protective masks requires continuous training to adapt to working in the sun's heat in full gear for long periods.
Unipath: How big is the team involved in this exercise?
Lt. Col. Al-Bouromi: There are more than 150 officers and noncommissioned officers taking part in the exercise, all of whom are WMD prevention specialists. We've seen the numbers increase from year to year as the scope of the scenario and the simulations become more rigorous and complex. The same can be said of the use of modern equipment available to SAF or brought by the Americans, on which we are briefed and trained.
Unipath: Can you talk about the U.S. Defense Threat Reduction Agency's equipment procurement program?
Lt. Col. Al-Bouromi:  We have a joint cooperation agreement with the United States through which the U.S. provides certain technologies and equipment. The WMD division of SAF will acquire some advanced equipment from the United States, including chemical, radiological and biological detection equipment, as well as decontamination equipment and some preventive technology. God willing, the picture will become clear in the coming months and after all the meetings and deliberations, we will end up obtaining approval from the Supreme Command of the Sultan's Armed Forces. As soon as this equipment arrives, we will start working with the U.S. to train on how to operate and handle the new equipment.
Unipath: What's the purpose of involving the Civil Defense, the Air Force, the Navy and the Army in this exercise?
Lt. Col. Al-Bouromi: It's no secret that weapons of mass destruction are not limited to the military side of things. If, God forbid, there were a chemical, biological or radiological attack or incident that affects both the military and civilian side, it is necessary to involve all sectors that could be involved in countering such an attack or limiting its impact. PACDA and SAF work together, trading roles depending on the type of threat. PACDA is responsible for responding to all peacetime emergencies, particularly any material leakage in the petrochemical industry. SAF comes second when providing the required support to isolation and evacuation efforts. During military operations, SAF would be the first responder and PACDA would provide support. Furthermore, the involvement of various state institutions will allow their staff to gain experience coordinating efforts and joint institutional action in crises.