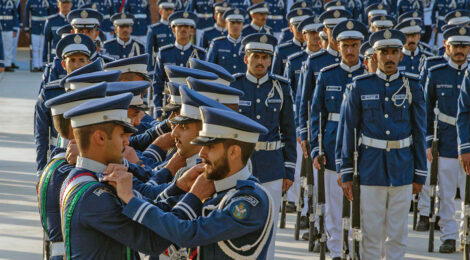 As part of an effort to establish deeper military cooperation in the Red Sea/Gulf of Aden region, Saudi Arabia invited several countries to participate in the Red Waves 1 exercise in Jeddah in January 2019.
Special operations and marine infantry forces from six Arabic-speaking countries participated in the drills: Djibouti, Egypt, Jordan, Saudi Arabia, Sudan and Yemen. Somalia sent observers. 
Several units participated, supported by Typhoon jets, and the event included shooting at naval and air targets.
Red Waves 1, along with another event called Arab Shield, are considered important steps to bolster regional cooperation and security among countries bordering the Red Sea.
"The exercise aims to enhance the maritime security of the Red Sea countries, protect their territorial waters, enhance military cooperation and exchange combat experiences," said Saudi fleet commander Maj. Gen. Saqr al-Harbi.
The Red Sea and the adjoining Suez Canal are part of a vital economic corridor accommodating 13 percent of the global trade. Red Waves 1's larger goal is to stem terrorism, smuggling and piracy, some of which is linked to states such as Iran.  Sources: Alghad.com, Elaph.com