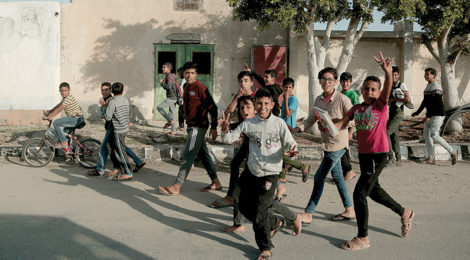 Egypt combines military operations with economic development to stabilize the peninsula
EGYPTIAN ARMED FORCES  |  Photos by AFP/GETTY IMAGES
Egypt's Armed Forces have made strenuous efforts to bring security and stability to the Sinai. Focused on what the military calls the northeastern strategic area, troops have successfully implemented Operation Sinai 2018.
The leadership of the Daesh-affiliated terrorist organization calling itself Wilayat Sinai was targeted in northern and central Sinai. All the terrorist outposts discovered were destroyed, and a large number of terrorist, criminal and wanted elements were apprehended, as well as people suspected of supporting takfiri elements.
Infrastructure belonging to terrorists, such as hideouts, trenches, tunnels, weapons caches, ammunition, explosive devices, administrative supplies, media centers and transmission centers were also destroyed. The detection, seizure and destruction of a large number of vehicles and motorcycles, along with large quantities of explosives, weapons, ammunition, bombs and explosive devices continued throughout 2018.
The goal is to re-establish normal life within the areas of operation, with the civilian police taking full control of the areas after they had been investigated and cleared by the Armed Forces to ensure they were free of terrorist elements.
A sense of normalcy returned as residents voted securely in presidential elections, public secondary school examinations were held in North Sinai, and students returned to Al-Arish University and commenced studies as usual at the beginning of the new school year.
Lake Bardawil reopened for fishermen, as did the ring road and the majority of internal routes. This ensured that trucks carrying fresh food and dairy products could reach the population safely and that people can travel safely in and out of Sinai.
Securing roads also meant that the military could cut off terrorist supply routes and thwart attempts to smuggle arms or transfer terrorist elements into the Egyptian provinces.
In West and South Sinai, a large number of vehicles carrying weapons, ammunition and drugs were detected, seized and destroyed. Likewise, many people were apprehended attempting to infiltrate the country or migrate illegally. Also pursued were elements involved in growing drug crops to finance terrorism and extremism, as well as those involved in gold mining and smuggling.
The Armed Forces succeeded in taking over areas of terrorist activity, besieging the terrorist elements and destroying their infrastructure.
In sum, in the process of fighting across all strategic areas since the beginning of Operation Sinai 2018, the Armed Forces have been able to eliminate more than 450 terrorists and detect and destroy more than 1,200 explosive devices, along with more than 900 vehicles, 1,000 motorcycles, 420 drug farms, 120 tons of drugs and 25 million drug tablets.
In addition, more than 16 tunnel openings have been discovered and destroyed along the border strip in North Sinai.
Military-civilian successes
The Armed Forces are working in cooperation with all state and private sector organizations to complete development works within the territory of Sinai, with the establishment of a large number of projects in all areas to serve its population.
The Armed Forces' Engineering Authority has been charged with implementing 310 projects in Sinai at a cost of 195 billion Egyptian pounds. As of late 2018, about 145 projects had been completed, and 165 were in progress.
For starters, national projects aim to improve the economy of the region. They include the Suez Canal tunnel project, fish farms, an artificial lake, expansion of an industrial zone at Port Said, and implementation of the Bardawil Airport project.
Nine roads with a total length of 460 kilometers have been completed. Fifteen more roads extending another 1,462 kilometers are under construction.
Armed Forces engineers have been charged with building about 81,000 residential units and 400 Bedouin homes. About 1,200 residential housing units have been completed in Masa'eed, 6,972 residential units in South Sinai and another 12,266 homes in New Ismailia City.
The military is also helping to create "development clusters" in which residents live next to where they work. Twenty-six development clusters have emerged in North and South Sinai provinces. Another 18 housing and agricultural clusters and eight clusters for fishing villages have arisen in the Bardawil Lake area.
Health care is also critical. Fifteen hospitals, a health clinic and a pharmacy have been commissioned. Nine hospitals have been constructed and developed along with a clinic and pharmacy while six other hospitals are being constructed and upgraded, including Rafah Central Hospital, Baghdad, Rumanah and Gifgafa.
The military has also been assigned the task of developing 53 schools, universities, institutes and educational departments, 45 of which had been completed as of late 2018.
Industrial development includes expansion of the Al-Arish cement factory and development of a marble processing plant in Gifgafa. Agricultural and land reclamation projects total nine, including cultivation of 13,680 feddans (each equal to 0.42 hectares) in Bir Al Abd, and irrigation pumps at Sarbium and Al Mahsamah.
Water projects number 54. Twenty-three of them are finished. They include seawater desalination plants in Al Tor, Taba, Ra's Mal'ab and Sheikh Zuweid. Sewer lines in the city of Al Tor have been completed, and similar projects are underway in the North Sinai cities of Bir Al Abd, Sheikh Zuweid, Nakhl and Al Hasnah.
Electrification is also a priority. The power network was upgraded in the cities of Al Tor, Abu Radis, Nuweiba, Dahab, Taba, and Rafah (in the international border area). The electrical line network supplying the sanitary disposal stations in Rafah, Sheikh Zuweid and al-Arish was upgraded.
Cultural, athletic, leisure and social projects have not been ignored. With 38 projects planned for implementation, seven have been completed, including the headquarters of the National Authority for the Development of the Sinai Peninsula in al-Arish, the Al Feyrouz Club in New Ismailia, the International Youth Village in Sharm El Sheikh, the indoor sports hall in al-Arish, the Al Sahabah Mosque in Sharm El Sheikh, and the Swiss Inn Hotel in al-Arish. The remainder of the projects are in progress.
Finally, a handful of other projects critical to Sinai's economic well-being will begin soon. They include the development and upgrade of the airports in al-Arish, Sharm El Sheikh and Al Maliz, construction of eight fishing villages in Bir Al Abd and a fishing marina in Rumanah, and establishment of an enterprise zone for the marble and glass industry in central Sinai.
As this activity illustrates, Egypt's Armed Forces play an outsized role in not only providing physical security in the Sinai, but also ensuring a vastly improved quality of life for its residents.