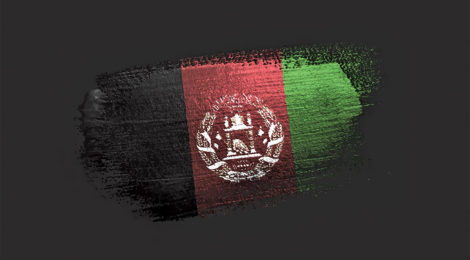 Amman's military mission to Afghanistan reinforced the battle against extremism
BRIG. GEN. AZZAM AL-RAWAHNEH JORDAN ARMED FORCES
Photos by Jordan Armed Forces
Jordan's persistent strategy has depended on rules, principles and concepts, most of which are aimed at respecting the sanctity of human rights to ensure that people everywhere live decent lives. The Hashemite Kingdom of Jordan is part of this world; it has always participated in and focused its efforts on removing or easing the suffering of people on earth, regardless of their affiliations, religious creeds and ethnicity, especially those who have suffered, and still suffer, from the scourges of war, disasters and terrorism.
These principles, combined with international and regional confidence in Jordan's ability to influence events, led to invitations for the Jordan Armed Forces to participate in international peacekeeping forces around the world. Jordan's Army derives its values and morals from Sharia, maintained by the leaders of the Great Arab Revolt, who focused mainly on allowing humans to live with dignity and pride.
These convictions extend to Afghanistan through distinctive Jordanian participation in an international effort to help our brothers build stability and security, ease suffering and spread the values and concepts of moderate Islam.
Aiding Afghanistan
Afghans have suffered from brutal and destructive wars for several decades as a result of a bitter history of international, regional and local competition to dominate the destiny of that country. The Taliban took over Afghanistan at the end of the last century. Its ideology contradicts the principles of Islam and provided a haven for al-Qaida to plot the September 11 attacks in 2001. This led the United States and its allies to launch an international campaign against terrorism, with Afghanistan as one of its strongholds, that ended with the Taliban's removal from power.
Jordan recognized that its commitment to the international community, strategic interests and Islamic culture, values and traditions would help Jordanian troops bring hope and life, highlight the concepts of moderation, and protect and support the Afghan people.
Jordanian participation included military religious imams who contributed to disseminating a moderate version of Sharia, building mosques and certifying Afghan imams. Jordanian women played a role in supporting Afghan women and children, instructing them in their rights and obligations, easing their fears and providing medical support.
These community efforts were accompanied by Soldiers who provided protection and security and helped save the lives of children, women and elderly.
Jordan had multiple reasons for undertaking this important mission in Afghanistan:
Political — It reinforced Jordan's commitment to covenants and international laws relating to the preservation of international peace and security, supported stability and human rights, and was consistent with the country's policy of openness and moderation.
Military — The mission was consistent with developing plans and modernizing the armed forces through the acquisition of expertise and developing skills associated with the participation of advanced armies in a real operational environment.
Security — This relates to the protection of strategic interests of the Hashemite Kingdom of Jordan, through international relations, and its commitment to work with the international community to combat terrorism. Jordan was, and is, a target for terrorist organizations.
Religion — The message of the Jordanian Arab Legion and the Hashemite leadership is to stand with our brothers in religion and to disseminate the Islamic religion, its concepts and its correct values based on moderation and rejection of extremism.
Human Rights — Jordan wished to harness its expertise in the field of providing humanitarian support to Afghans, reduce their suffering and pain through medical assistance programs and provide a safe environment for them to live in freedom and dignity.
Given the professionalism of the Jordan Armed Forces, it is important that it benefit from these experiences and evaluate the outcomes of such participation at all levels and dimensions.
Lessons Learned
At the military level, the Jordan Armed Forces benefited from its Afghanistan mission by working with highly skilled armies and using the latest technology, tools, training and weapons. Joint training was good not just physically for the troops but as a way to maintain morale.
 Participation in such environment provides the opportunity to test the effectiveness of training, with all the accompanying physical and psychological preparations, combat readiness and battle procedures.
The basic elements of any army are training, operations and intelligence, and they have been tested and developed through the work environment in Afghanistan.
The mission also brought improvements in cultural awareness and military culture in all its components. The ability to adapt to different working environments in the area of responsibility has brought cognitive and cultural benefits for our officers and enlisted men. 
When it comes to elite formations, they learned the requirements of modern warfare. The practical experience in the field has provided an opportunity to qualify units for a high level of combat readiness.
Civil-military affairs are a key to the success of military information operations, stability and reconstruction. Many teams have enriched their experience in this field.
Self-confidence and self-criticism reflect positively on the morale side. Our forces have proved their ability to compete with major armies in the field of stabilization operations. 
At the political level, the mission enhanced the presence of Jordan on the international political map and established it as a key player in providing a tolerant, team-work-based approach to preserving the peace.
When it comes to international security, participation in multinational operations helped Jordan increase awareness of the latest intelligence systems, methods and instruments. This is important to a country such as ours that is targeted by terrorist organizations. Our performance in the intelligence arena was tested during real operations in the field. 
The gains were also significant at the religious level. The participation of military imams allowed Jordan to train and qualify a large group of Afghan imams. These imams were imbued with the Amman Message, which stresses an Islam without the taint of intolerance and violence. With this knowledge, Afghan imams were better prepared to confront and isolate extremists.
Imams are more acceptable to the local population, and more capable of bridging the gap between civilians and military forces. They provide a positive image of Islam, including when they helped rebuild and renovate mosques in Afghanistan. 
Economically, the missions helped the Jordan Armed Forces pay for training, weapons and certifications. This process requires a lot of money, which makes it imperative to cooperate and participate with advanced countries to maintain the above.
Participating in the Afghan mission provides a good income for personnel, which helped in building morale and financial stability. And it does so without increasing the burden on the state budget.
In the social realm, the Jordanian policy of openness, solidarity and interaction with the international community helps remove the sense of isolation imposed by the Taliban on the Afghan people. 
The Jordanian efforts — especially with the participation of Jordanian women — could help alter the prevalent ideologies in Afghan society. It provided an opportunity to highlight the noble concepts of Jordanian society.
Summary
Jordan seeks to consolidate its strategy of supporting security operations, peacekeeping and international efforts to alleviate the suffering of peoples from the scourge of war, based on the criteria of humanitarian, religious and ethical commitment.
Given the Jordan Armed Forces' experience and professionalism, the mission to Afghanistan helped restore security and stability through a competent force consisting notably of military imams and female Soldiers.
Jordan's motivations were to stand by its brothers in religion and belief in Afghanistan. Jordanian forces provided various types of medical, religious, morale and psychological assistance.
There is no doubt that such participation provided plenty of lessons at various levels, the most important of which are military and religious. This will go a long way to developing our forces to be a model for the region.