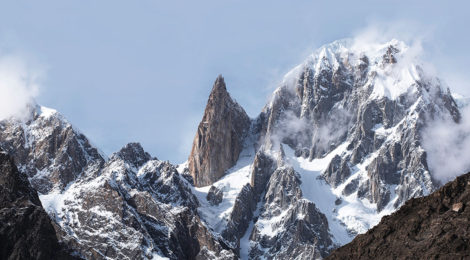 Four Pakistani helicopter pilots rescue British mountaineers at death-defying heights
MAJ. MUZAFFAR AHMED, PAKISTAN ARMED FORCES
It was a calm, sunny day on May 29, 2018, when three seasoned climbers — Bruce Normand, Timothy Miller and Christian Huber — kicked off an expedition to Ultar Sar peak in Pakistan. Normand and Miller hailed from Britain, and Huber joined them from Austria. All three climbers had a special affection for Pakistan's Northern Areas, evident from their expeditions to other mountain peaks during previous climbing seasons.
After flying to Gilgit and passing through the Fairy Meadows, they checked into a riverside resort at Hunza. The time and weather for trekking were ideal. Eager to get close to their destination, they traveled alongside Hunza River for five to six hours and reached Karimabad. The persistent refreshing sound of the river flowing parallel to the road added to their excitement. 
Their mission to scale Ultar Sar would be an arduous task, but their resolve was higher than the peak itself. Ultar Sar (also called Ultar, Ultar II, Bojohagur Duanasir II) is the southeasternmost major peak of the Batura Muztagh, a subrange of the Karakoram mountains. It lies about 10 kilometers northeast of Karimabad, a town on the Karakoram Highway in the Hunza Valley.
At 24,238 feet, Ultar Sar is not one of the highest peaks of the Karakoram, but it is notable for its dramatic rise above the local terrain. Its southern flank is 17,388 feet above the Hunza River near Karimabad. It is a visually striking peak in the Batura group of mountains of Karakoram. The prominent surrounding peaks covering Ultar are Ladyfinger, Marble, Harchinder, Passu and Diran peaks. Famous glaciers in the area include Attabad, Ultar, Hussan Abad and Batura.
For mountaineers, it's a technically difficult peak: steady ice, overhanging rocks, crevasses and sharp ridges. In the past, its ascent was attempted by many expeditions, but most failed. The only expedition to scale this peak successfully was from Japan in 1997.
Normand, a 51-year-old physicist, was the leader of the trio. He had been to Pakistan 13 times on expeditions. But Miller, a 21-year-old geology student, was making his first attempt to climb a mountain in Pakistan. From Karimabad, they reached Shahabad and stayed there for two weeks to acclimate themselves. The team reached the Ahmedabad base camp on June 18, 2018, fully geared with requisite climbing equipment. Two days later, using Alpine-style climbing techniques, they started to scale Ultar Sar peak in perfect weather.
The style of mountaineering they favored was one of self-sufficiency, carrying all their food, shelter and equipment during the ascent. While trekking in stages toward Camp-1 and Camp-2, they started encountering difficulties from overhanging ridges and fears of treacherous weather.
On June 27, the weather turned much worse than forecast. At an elevation of just over 19,700 feet, a blizzard forced them to abandon their plans. As they waited for a chance to descend, they dug a platform in the snow for their three-man tent at Camp-2. During the night of June 29/30, at about 1 a.m., an avalanche buried them under 6 feet of ice.
The fight for survival began. Miller ripped his way out of their buried tent with his teeth and battled to the surface before digging to save the lives of his trapped comrades. Miller pulled a half-conscious Normand from a semi-airhole. Together, they desperately sought Huber's whereabouts.
It took them more than an hour to find their Austrian colleague, but Huber had suffocated under the weight of the avalanche before they could save him. He was just 40 years old. Normand said later: "We are very disturbed and grieved that we could not save our comrade. Moreover, we feel sorry for the family members and especially Christian's only son that their beloved is no more."
Once clear of the buried tent, the pair found themselves stranded in a snowstorm wearing only their thin base layers of clothing. They had to dig out their kit to avoid frostbite. Miller and Normand reported their condition on a satellite phone linked to their tour operator, requesting a helicopter rescue. Unfortunately, on June 30, the weather would not permit a rescue attempt. The two surviving mountaineers spent two days in their broken tent, waiting for the weather to ease before they had a chance to be airlifted to safety. 
Though the weather was still unfavorable, pilots of the Pakistan Air Force No. 5 Squadron took off from Skardu for Ultar peak on July 1 at 5 a.m. An hour later, the formation comprising two Ecureuil helicopters flown by Maj. Fakhar-e-Abbas, with co-pilot Maj. Irtaza Ali Hamdani, and Maj. Abid Rafique, with co-pilot Maj. Zia-ur-Rehman, reached Hunza.
After refueling, they took off again and at about 6:30 a.m. reached the area of the avalanche nearly 4 miles above sea level. It took them almost 20 minutes of hovering to spot the exact site. Then the real challenge began. Formation leader Maj. Fakhar-e-Abbas narrated:
"We started analyzing the site for possible landing. It was an extreme altitude. To our dismay, there was utter absence of basic landing aids like a windsock, marking of the helipad, leveled ground or any facilitating feature. We made several attempts to check the landing configuration and availability of some safe margins. Despite significantly reduced margins and prevailing temperature of minus 2 Celsius, we finally planned to land. Maj. Abid Rafique touched down on an ice rock very professionally and picked up Tim Miller and the deceased Christian [Huber]. Then I made an attempt and picked up Mr. Bruce Normand with the equipment and flew back. This was the first-ever, unprecedented historical landing at the height of 19,700 feet. Sitting closely on a razor sharp ridge, a little mistake or judgment error could have been fatal for all."
At 7:30 a.m. the helicopters landed safely back at Hunza.
This daring mission of Maj. Fakhar-e-Abbas and his team in unusual and challenging circumstances was acknowledged and praised not only by the mountaineers but also by the British High Commission in Pakistan and the international media. The remarkable action by Pakistan Army Aviation pilots has not only raised the morale of mountaineers who want to visit Pakistan to scale different peaks but also improved the image of Pakistan internationally.
We are really proud of our aviators who are not only proving their mettle in Pakistan's war against terror, but also playing a significant role in disaster relief works and in flying rescue missions in challenging conditions.