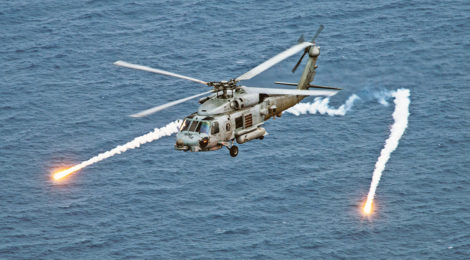 UNIPATH STAFF
Royal Saudi Navy Commander Gen. Fahd bin Abdullah al-Ghufaili launched the country's first MH-60R helicopter in September 2018, part of the kingdom's adoption of top-tier military technology to help stabilize the Middle East.
Saudi Arabia plans to buy 10 MH-60R multirole helicopters from Lockheed Martin's Sikorsky Co. at an estimated cost of $1.9 billion through the U.S. Foreign Military Sales Program.
Speaking at a ceremony to introduce the helicopter, Gen. al-Ghufaili said the MH-60R will aid Saudi Arabia in achieving its strategic objectives according to the vision and directives of Commander in Chief His Majesty King Salman bin Abdulaziz Al Saud and His Royal Highness Crown Prince Mohammed bin Salman.
The general praised the aircraft's advanced military technology and capacity to engage in surface and subsurface naval warfare, enhancing the capabilities of Saudi naval forces to improve maritime security.
"The naval combat helicopter project will contribute significantly to strengthening security of the kingdom and will further enhance the Saudi forces in the region," noted a statement by the Saudi Ministry of Defense.
U.S. Navy Adm. Francis Morley said the project was an opportunity to develop the strategic relationship between Saudi Arabia and the United States, especially because the Saudi Navy and the U.S. Navy have historical ties.  Sources: Arabnews.com, CNN