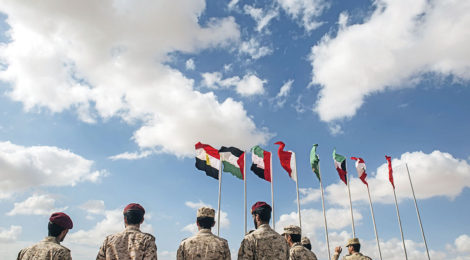 UNIPATH STAFF
Egypt hosted what it called the first joint Arab military exercise on its soil. Military forces from six Arab countries gathered at Mohammed Najib Military Base near Alexandria during November 2018 for the Arab Shield 1 exercise.
Troops from Bahrain, Egypt, Jordan, Kuwait, Saudi Arabia and the United Arab Emirates participated in the joint training, which lasted nine days and included ground, air and naval forces.
The exercise was part of an effort to strengthen military cooperation between Egypt and its Middle Eastern partners to maintain security and restore stability to the region. A spokesman for Egyptian forces called Arab Shield one of best exercises in the Arab world to optimize the use of modern weapons and state of the art equipment. 
Brig. Gen. Abdullah bin Hussein al-Subaie, commander of the Saudi forces participating in the exercise, noted that Arab Shield is a key part of the country's annual training plan.
Troops learned to conduct counterterrorism operations, clear and secure border villages, handle improvised explosive devices, drop military supplies from aircraft and secure coastlines.
The nine days of field training were followed by a senior leader seminar that included lectures by officers from participating countries. The Lebanese and Royal Moroccan Armed Forces sent observers.  Source: Al-Ahram