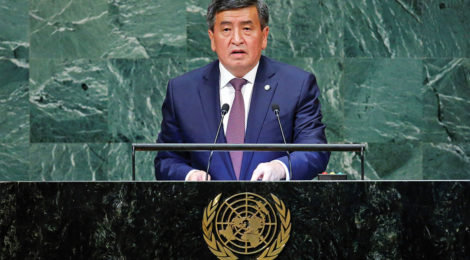 UNIPATH STAFF
Kyrgyzstan President Sooronbay Jeenbekov re-emphasized his country's commitment to defeat terrorism in a speech at the United Nations General Assembly in September 2018.
President Jeenbekov expressed support for the U.N.'s Global Counter-Terrorism Strategy and noted that Kyrgyzstan lies at the crossroads of Central Asian drug trafficking routes used to help finance violent extremism.
Approved in 2006, the U.N. counterterrorism strategy entails not just preventing and fighting terrorism, but also upholding the rule of law and human rights.
The Kyrgyz president emphasized his commitment to parliamentary democracy and anti-corruption measures. Judicial and security sector reform are two prongs of those efforts. 
An improved business climate would aid Kyrgyzstan's National Development Strategy, as would agreements among neighboring landlocked countries to stimulate international trade through improved transportation networks. 
In terms of environmental threats, President Jeenbekov stressed the need to secure waste left over from former Soviet uranium mines on Kyrgyz soil. These "tailing ponds" pose a threat to public health and the environment, he said.
Sources: Azattyk, AsiaTV, K News