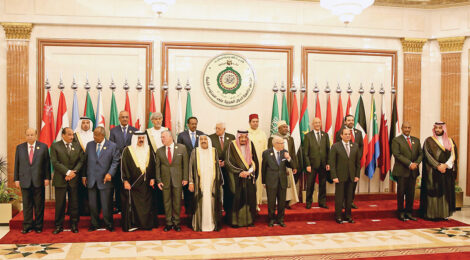 The Arab League concluded its May 2019 summit in Mecca by condemning Iranian interference in the Arabian Gulf, Yemen and Syria.
Arab leaders specifically denounced attacks launched against Saudi Arabia from Yemeni territory using Iranian-made missiles, the assaults on commercial vessels in the Arabian Gulf and Iranian support for Houthi rebels in Yemen.
His Majesty King Salman bin Abdulaziz Al Saud of Saudi Arabia called on the international community to shoulder its responsibilities pertaining to the Iranian sponsorship of transnational terrorism. 
Egyptian President Abdel Fattah al-Sisi reiterated that the security of the Gulf Arab states is tied to the security of Egypt. 
His Majesty King Abdullah II bin Al Hussein of Jordan underscored his country's stand with its Arab brothers in defending their interests and security.
Iraqi President Barham Saleh called for an end of interference in the internal affairs of other countries and linked Iraqi security to Saudi security.
Delegates urged Middle Eastern nations and regional and international organizations to pressure Iran to abandon policies that threaten the peace and security in the region. Those policies include interference in Syria
and Yemen aimed at causing disunity and strife.  Sources: alarabiya.net, CNN