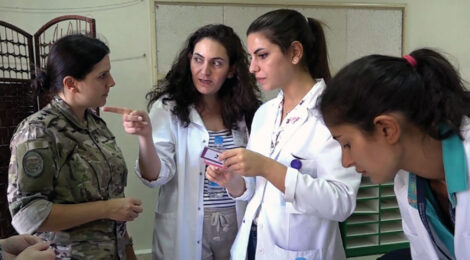 In between their successes in the field, Lebanese troops are deployed to help citizens in times of need.
The Lebanese military's Directorate of Civil Military Cooperation (CIMIC), commanded by Brig. Gen. Eli Abi Rashid, is responsible for supplying troops for such missions of mercy in coordination with civilian state agencies and private donors.
Recent events include providing free health care at hospitals and schools in the Baalbek governorate; distributing aid packages of toys, clothes and food to families in Tripoli; and disbursing 7,500 items of winter clothing to families in the Bekaa and Baalbek governorates. 
At the hospital visit in 2019, the military provided diagnostic services and promoted a medical campaign for early detection of chronic diseases.  
"The provision of such health care services is only evidence of the depth of the relationship that binds the Lebanese military to the people and its service to civil society," Brig. Gen. Eli said.
The winter clothing drive in January 2020 encompassed 32 schools. CIMIC coordinated donations with the Mohammed bin Rashid Al Maktoum Humanitarian and Charity Foundation from the United Arab Emirates. 
"This is the kind of donation we regularly make during the winter. It's aimed at helping children and families who need to withstand inclement weather," United Arab Emirates Ambassador to Lebanon Dr. Hamad Saeed Al Shamsi said.
CIMIC was founded in 1983 with the philosophy that the Armed Forces can conduct specific development and social welfare operations without prejudicing their primary military mission. It is affiliated with the Army's Reconnaissance Directorate as part of the Lebanese Armed Forces operations staff. 
Sources: Lebanese Armed Forces, Naharnet, elnashra.com