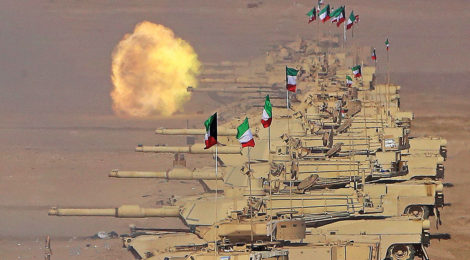 UNIPATH STAFF
Kuwaiti troops joined forces with their French counterparts to complete the Pearl of the West exercise in November 2018.
Pearl of the West was held in accordance with a 1992 Security Cooperation Agreement between the two countries and is designed to raise the performance and combat efficiency of Kuwaiti ground, air and naval forces.
The Kuwaiti Ministry of Defense acclaimed the 2018 exercise the largest ever. Thousands of troops participated. Drills included the use of live ammunition at the shooting range complex northwest of Kuwait City.
French Ambassador to Kuwait Marie Masdupuy noted that Pearl of the West is one of several defense cooperation endeavors between the two countries. 
For example, Kuwait concluded a deal with the French to buy 30 sophisticated Caracal helicopters for the Kuwaiti Air Force and National Guard to use in search and rescue operations, maritime operations, medical evacuation and military transport.
In addition, both countries contributed to the international coalition to defeat Daesh. To accomplish that mission, French Soldiers deployed to Camp Arifjan in Kuwait.
In late October 2018, Lt. Gen. Mohammed Al-Khader, chief of the General Staff of the Kuwaiti Army, discussed security cooperation with his French counterpart in Paris.  
Source: Kuwait News Agency