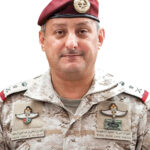 I would like to extend my sincere thanks and appreciation to U.S. Central Command for giving me the opportunity to write the opening article for this issue. It focuses on cooperative security, which aims to achieve more international consensus and cooperation, synchronize efforts to deal with new multidimensional threats, and provide a better understanding of common challenges. 
Cooperative security is achieved only through partnerships and alliances between brotherly and friendly countries with common interests in security and military matters. These defensive partnerships and alliances enable member states to maintain readiness and respond rapidly to instability that threatens our common vital interests including stability, security and regional prosperity.
The Kingdom of Saudi Arabia has diversified its efforts in terms of cooperative security, including training and multinational exercises, the international alliance for maritime protection, cyber security, joint work groups, civil-military cooperation, peacekeeping missions, drug control training, disaster relief and regional excellence centers.
Given the wide range of threats to the security environment, we must be prepared to confront challenges and threats, particularly terrorism and extremism. Therefore, the Kingdom of Saudi Arabia called on the international community to cooperate in eradicating terrorism that has affected the kingdom and many other countries in the world.
The kingdom has made exceptional efforts to enhance security, peace and stability at regional and international levels. Saudi Arabia provided the initiative to form an Islamic military alliance to combat terrorism. It will unify, coordinate and support Islamic efforts to fight terrorism in all forms and manifestations.
As His Royal Highness Crown Prince Mohammed bin Salman bin Abdulaziz Al Saud said, the formation of this alliance "originated as a concern in the Islamic world to respond to the terrorism epidemic and partner with the world as a group of countries in fighting it." A joint operations center was established in Riyadh to coordinate and support military operations to combat terrorism and develop programs and mechanisms to defeat it.
Saudi Arabia took part in the international coalition mission "to counter Daesh on all fronts, dismantle its network and deter its international ambitions." In addition to the military campaign in Iraq and Syria, Saudi Arabia is committed to "countering the financial and economic infrastructure of Daesh, preventing the flow of foreign terrorist fighters across the border, supporting stability and restoring basic public services to areas liberated from Daesh and countering Daesh propaganda."
The strategy of combating terrorism in the kingdom includes addressing security, ideology and terror finance. As a strategic partner of the international coalition against Daesh, the kingdom, in conjunction with the United States and Italy, is co-chairing a task force focused on efforts to disrupt funding. Playing its role, Saudi Arabia has established a Terrorist Financing Targeting Center to help impose sanctions on those who finance terrorism and to share intelligence with partners.
The kingdom has played a leading role by contributing millions of dollars to help restore stability in regions liberated from Daesh in Iraq and Syria. Humanitarian assistance was not limited to the regional level — the King Salman Humanitarian Aid and Relief Center worked to help communities in about 45 countries around the world.
As you know, terrorist groups and organizations, whatever their religious affiliation and names might be, have violated sanctity, practiced killing and corruption on earth, terrorized populations, mastered treachery and betrayal, planted the seeds of hatred and promoted aggression and destruction. 
The kingdom has therefore taken practical and effective initiatives to combat extremist ideology and wage preemptive media campaigns to counter misleading propaganda, including the establishment of the Global Center for Combating Extremist Ideology and the Ministry of Defense Ideological War Center. Along with other governmental and civil society organizations, these institutions seek to combat extremist ideology and promote tolerance, moderation, peace and stability.
The kingdom responded to the Yemeni government's legitimate call for the restoration of constitutional order in Yemen, and the kingdom, along with its Gulf Cooperation Council brothers — in cooperation with the United States and European countries — led a coalition to restore the legitimate government in Yemen and negotiate a peaceful solution to the crisis.
Since its inception, the coalition has striven to stop Houthi attacks on the Yemeni people, their rights and their property, attacks that have compromised the safety of countries in the region. The coalition to restore Yemen's legitimacy has not limited its effort to military operations; it has also been keen to help and protect the Yemeni people through humanitarian initiatives such as the Saudi Program for Development and Reconstruction in Yemen.
From the beginning, the Coalition Joint Forces Command has worked to enhance combat efficiency and force readiness while commanding combat operations based on emerging threats and the security environment at the regional level. It works in tandem with all branches of the Armed Forces that manage all training and operational activities of the forces, and coordinates and integrates with elements of the national forces, especially the military and other security forces. 
The joint forces work with regional and international alliances to ensure the kingdom's security through qualitative excellence, readiness and the integrated ability to face the full spectrum of threats. It carefully recruits men with the highest levels of professionalism, competence, merit, training and motivation to carry out critical operations, effectively manage defensive capabilities, and achieve security through national, regional and international cooperation.
His Royal Highness Staff Lt. Gen. Prince Fahad bin Turki  bin Abdulaziz Al Saud
Commander of Joint Forces of the Coalition  to Restore Legitimacy in Yemen