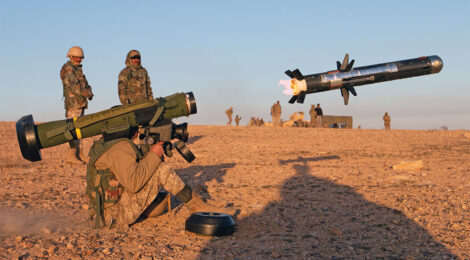 UNIPATH STAFF
Border guard forces were the latest Jordanian Armed Forces units to take advantage of the Jordan Operational Engagement Program (JOEP), a 14-week training regimen sponsored by the United States.
The program engaged troops from the Jordan Armed Forces 5th and 10th Border Guard Force Battalions in the first half of 2019. 
U.S. and Jordanian forces improved skills such as firing mortars, containing chemical weapons attacks, defending bases, and anti-tank combat at a live-fire range outside Amman. Troops also practiced being medics, snipers and members of machine gun teams. 
After graduating from the JOEP course, the border guard troops were deployed to Jordan's northern border, where violent extremists sometimes attempt to cross from Syria.  
Jordanian Brig. Gen. Khalid Mohammed Al-Masaeid, then commander of the Northern Region, praised the border guard troops for their accomplishments and thanked U.S. military instructors for their contributions.
"The security you provide is for your family — your wife, children, father and mother so that they can continue a normal life," Gen. Al-Masaeid said in a March 2019 graduation ceremony for the 10th battalion. "Hand in hand with our allies, we will be able to fight terrorism, keeping our country protected and safe."
The Jordanian troops partnered with the California Army National Guard as part of JOEP, paid for by the Counterterrorism Partnership Fund, through which the U.S. provides support to foreign security forces to respond to crises and defend against terrorism.
"Throughout your 10 weeks, you've improved your skills as individuals and built upon these skills to improve your capabilities from squad training through the company level," U.S. commander Lt. Col. Jeremy T. Hopkins said at the March ceremony.
"You've trained when it was nice outside and went through the elements when it was cold and wet. Throughout it all, you displayed a high degree of motivation and willingness to learn." 
Sources: www.diyaruna.com, U.S. Army National Guard