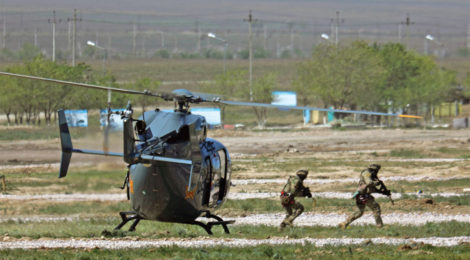 UNIPATH STAFF
Kazakhstan's Parliament approved a plan to help finance the country's defense industry and lessen reliance on Russian munitions.
The country's Ministry of Defense and Aerospace Industry will provide financial assistance to boost research into science and technology. The money will be generated in part by the sale of unused Soviet-era military equipment.
Vice Minister of Defense and Aerospace Industry Asset Kurgmangaliev said the $80 million the country hopes to raise with the equipment sales will help fill shortfalls in the national budget and help attract foreign investment.
During the Soviet period, Kazakhstan served as a base for Soviet army units, space projects and nuclear weapons. Although Kazakhstan rid itself of Soviet-era nuclear weapons, plenty of nonnuclear military equipment remained in the country.
According to the Kazakhstan Defense Ministry, the country still has unused ammunition from World War II and plans to sell much of its old military material. Minister of Defense and Aerospace Industry Beibut Atamkulov warned of environmental dangers stemming from antiquated Russian missiles still present in the country.  
Sources: Total.kz, Today.kz, Kapital.kz, nti.org 
KAZAKHSTAN DEFENSE MINISTRY