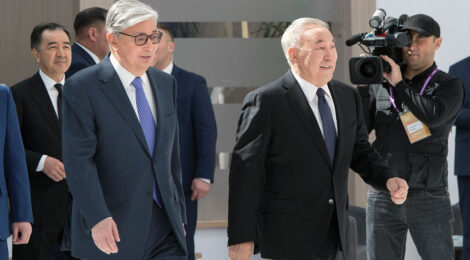 UNIPATH STAFF
Kyrgyz-Kazakh relations have improved over the past 2½ years after a brief chill. Both nations have expressed a greater willingness to strengthen military, security, economic, trade and cultural ties. 
An April 2019 meeting between defense ministers of Kyrgyzstan and Kazakhstan deliberated on issues of international and regional security, potential areas of military cooperation and joint combat training and military education. 
In May 2019, Kyrgyzstan and Kazakhstan solidified diplomatic relations as well. Meeting Kazakhstani Minister of Foreign Affairs Beibut Atamkulov in Bishkek, Kyrgyz President Soronbay Jeenbekov praised Kazakhstan as one of his country's top partners.
For his part, Kazakhstani President Kassym-Jomart Tokayev reassured his Kyrgyz counterpart of his country's commitment to friendly and close relations with its neighbor.
In a potential boost to Kyrgyzstani economic growth, the countries are also negotiating to export surplus Kazakh oil and gasoline to Kyrgyzstan duty free. 
Sources: Zakon.kz, Zonakz.net, Inform.kz