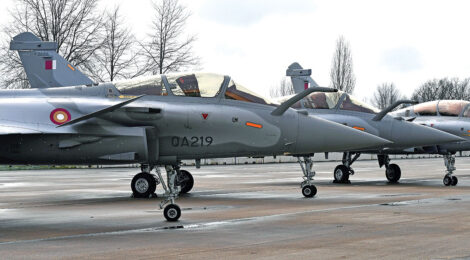 UNIPATH STAFF
Qatar has boosted the effectiveness of its Air Force with the formation of the Al Adiyat fighter jet squadron. Al Adiyat has its origins in the country's purchase of French Rafale fighter jets, the first of which were delivered to Qatar in February 2019.
Received by His Highness Emir Sheikh Tamim bin Hamad Al Thani at Dukhan airbase, Qatari crews arrived from France aboard the first batch of what will be 36 Rafales.
The jet is designed for interdiction, aerial reconnaissance, ground support, in-depth strike, anti-ship strike and nuclear deterrence missions, and pilots displayed the Rafale's capabilities at an air show attended by Sheikh Tamim.
The purchase of the Rafales is just one component of Qatar's efforts to enhance the capabilities of its Armed Forces. 
The country's combined special forces graduated 125 paratroopers after they completed a five-week course that included 26 classroom sessions and 105 field drills. The paratroopers were trained in the basics of skydiving, static line jumps, equipment safety, modern battlefield-entry, techniques of exiting aircraft, and ground-landing procedures.
A total of 473 jumps were performed by all cadets: five daylight jumps per commissioned officer and four daylight jumps per noncommissioned officer.
In addition to the technical preparation, paratroopers took psychology courses aimed at maintaining self-confidence and composure in harsh conditions to complete missions with minimal losses. 
Source: Raya (Qatar)