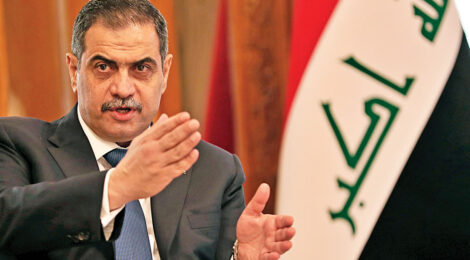 UNIPATH STAFF
The Iraqi Army has logged significant achievements over the past few years as it has retaken Daesh-held territories. To continue such progress, the Iraqi parliament confirmed Maj. Gen. Najah al-Shammari as the new defense minister in June 2019. 
The post — as well as those of the interior and justice ministries — had remained vacant for several months as then Prime Minister Adil Abdul Mahdi formed a new government.
Dr. Yaseen al-Yasiri also was confirmed as interior minister and Judge Faruq Ameen as justice minister.
For a country facing persistent security challenges, filling top leadership positions in the government was critical. Defense, interior and justice — which include the military, police and courts — are the three ministries considered most vital to fighting terrorism.
Defense Minister al-Shammari is a retired major general who graduated from the Iraq's Military College in 1987. He commanded several special operations units from 2003 until his retirement in 2018. He trained in Jordan, Saudi Arabia and the United States. 
Minister al-Shammari will command a military that, despite its victory over Daesh and its liberation of territories once occupied by the terrorist group, continues to pursue terrorist elements that have sought havens in the deserts and mountains. Daesh lost its last major urban stronghold, in the Syrian city of Baghouz, in March 2019.
The Iraqi Army is in better shape than it was in June 2014, when Daesh occupied large swaths of three Iraqi provinces. Under then Prime Minster Haider Al-Abadi, the military was restructured, reequipped and trained rigorously.
The victory over Daesh — aided by coalition air power — provided the Iraqi Army experience and confidence, increasing the number of citizens who view it as a strong force capable of protecting the homeland.  Sources: Military.com, alarabiya.net