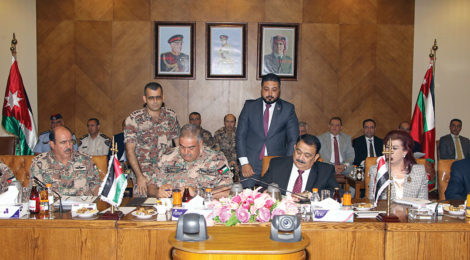 Iraq and Jordan signed a military cooperation agreement in August 2018 to improve joint security in the post-Daesh era.
Then Iraqi Defense Minister Irfan Mahmoud Al Hayali signed the bilateral deal in Amman with Jordanian Chairman of the Joint Chiefs of Staff Lt. Gen. Mahmoud Freihat. Also present at the signing was Iraqi Ambassador to Jordan Safia al-Suhail and senior military officers.  
"The agreement aims to exchange expertise and information in the fields of border protection, developing intelligence capabilities, joint military exercises, research and technology development, combating terrorism in various forms, training and development," the Iraqi Ministry of Defense announced.
The war against Daesh had disrupted trade and communication on the 180-kilometer common border between Iraq and Jordan. The disruption was partly resolved with the reopening of the main border crossing at Trebil, Iraq, in 2017. 
Sources: Iraqi Ministry of Defense, Jordan News Agency-Petra