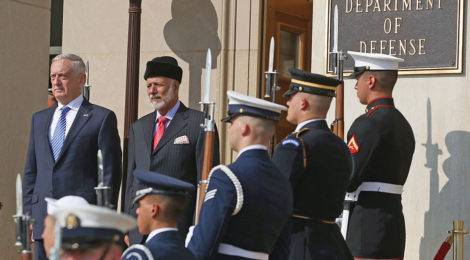 UNIPATH STAFF
Counterterrorism, freedom of navigation, the Yemeni conflict and arms smuggling were discussed during a July 2018 visit to Washington by Omani Foreign Minister Yusuf bin Alawi. He met with top officials, including U.S. Secretary of State Mike Pompeo and then Secretary of Defense James Mattis.
The State Department noted that Alawi and Pompeo "affirmed the importance of continued support for the efforts of United Nations Special Envoy Martin Griffiths and emphasized the need for all parties to show restraint to avoid further escalation of hostilities."
Griffiths has tried to resolve Yemen's civil war diplomatically, using Muscat as a neutral intermediary. Oman also favors repairing fractured relations within the Gulf Cooperation Council. 
In his meeting with Secretary of Defense Mattis, Foreign Minister Alawi discussed efforts to improve bilateral military cooperation.
Mattis called Oman a vital U.S. security partner and has urged Muscat to continue blocking the use of its borders and waters to smuggle arms to Yemen. Oman's Foreign Ministry announced that its security relationship with the U.S. remains "exceptional."
Minister Alawi was in Washington to attend a ministerial meeting to promote religious tolerance and freedom around the world.
Sources: Omani Ministry of Foreign Affairs, U.S. departments of State and Defense