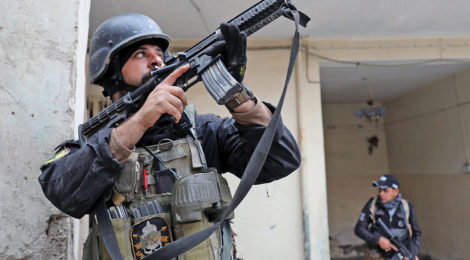 Iraqis and Jordanians share lessons learned from the victorious campaign against terrorists in Iraq
UNIPATH STAFF
Forces that recently emerged victorious from battle — particularly the triumphant troops of the Iraqi Armed Forces — possess unique knowledge of modern urban warfare often denied troops further removed from the front lines.
How do terrorists entrench themselves in cities? How do you win the trust of populations under occupation? How do you disable hostile technology like enemy drones and improvised explosive devices? How do you conduct psychological operations against violent extremists like Daesh?
Iraqi commanders revealed the answers to such questions at the invitation of the Jordan Armed Forces in November 2018. The setting was a counterterrorism conference in Amman in which officers exchanged lessons learned from the battles against Daesh. 
"It is known that terrorist groups entrenched inside urban areas use small groups that have great flexibility to change tactics and maneuver quickly, which is a great challenge for conventional armies, especially those using heavy weapons and aircraft," said. Gen. Talib Sheghati Alkenani, commader of the Iraqi Counter-Terrorism Service. "It is therefore necessary to rely on light, fast-moving forces equipped with the modern technology to precisely destroy targets."
It was a message well received by Col. Sufyan Al Sulaihat, commander of Jordan's King Abdullah II Special Operations Group.
"We pray for Iraqi fighters who were killed in action to defend their nation. They earned their experience in their blood, and they were very generous with sharing their experience," he said.
"Based on what we learn in this conference, we will review our procedures in offense, defense and conducting operations in urban areas. We always adjust our procedures based on what works and what does not."
Iraqi commanders imparted their deep knowledge of tactical and psychological efforts to dislodge Daesh from cities such as Mosul.
Maj. Gen. Raad Al-Mohamdawi, director of training at the Iraqi Counter-Terrorism Service, pledged greater cooperation between special operations forces in Iraq and Jordan. Intelligence and information gathered from the battlefields must be shared quickly to ensure coalition partners benefit from the revelations.     
"We have been fighting terror since 2003, and I am confident enough to say that we have become an encyclopedia of counterterrorism warfare," Maj. Gen. Raad told the assemblage of multinational officers. 
U.S. Special Operations Command spent six months ensuring participants from all three countries could attend  the Amman conference. 
"The conference is the fruit of the partnership between the Jordan Armed Forces and U.S. and Iraqi forces," said Brig. Gen. Mohammed Al-Thalji, director of training for the Jordan Armed Forces. "The region was sitting on a volcano of terror, and without the support of coalition forces, the situation would get worst."
The Iraqi delegation to Jordan included Sabah Nouri al-Numman, director of media and psychological operations for the Iraqi Counter-Terrorism Service.
He shared his experiences developing social media and psychological campaigns to expose the lies of terrorists and facilitate the recapture of Daesh-occupied towns. He described his target audience as three sided: Iraqi fighters, Iraqi citizens and regional observers.
"Our message to our Soldiers is that you are the heroes of Iraq, and the nation entrusts you to protect it," he said. "Our message to Iraqi citizens is to reassure them that our security forces will defeat terror and preserve a united Iraq. For the region, we display our unity and rejection of sectarianism." 
Winning the hearts and minds of citizens of terrorist-occupied cities was a challenge. Radios and loudspeakers supplied by coalition partners allowed the Iraqi troops to make announcements to residents over the din of battle. Such announcements dealt with keeping families safe and providing them with escape routes.
Iraqi media also highlighted inspiring stories that undermined Daesh attempts to intimidate local populations.
"We documented and published success stories of humanitarian missions and rescues. In addition, we highlighted the heroic stands of Iraqi citizens who resisted ISIS and defended their villages," he said.
"These success stories inspired Iraqis in the denied areas. We are encouraging local citizens to be part of the security effort to keep their neighborhoods safe and deny terrorists a nest from which they can re-emerge."
Lt. Col. Atef Almaro, commander of the Jordan Armed Forces 2nd Special Unit, expressed gratitude for the real world experience he gained from the Iraqi visitors. That included beneficial information about hybrid warfare in which terrorists used social media, unmanned aerial vehicles and improvised explosive devices to try to thwart Iraqi liberation forces.
"In Jordan we are dealing with isolated terrorist threats, but Iraq conducted full-scale operations against much larger terrorist groups entrenched in urban areas with their own advanced weapons and fighting skills," Lt. Col. Atef said.
The Jordanians have accumulated lessons of their own to offer partner nations. The kingdom has led the way in counterterrorist messaging, encapsulated in His Majesty King Abdullah II bin Al Hussein's Amman Message, which challenges terrorists' promotion of religious intolerance. 
Brig. Gen. Al-Thalji noted that his country has taken the lead in an ideological struggle that complements the heroics of Iraqi forces on the ground.
"We focused our messages on immunizing our citizens from extremist narratives and encouraging tolerance and balance to defeat terror," the brigadier general said. "Our strategy was very clear — to spread tolerance and deny terrorist ideology access to our security realm."
Iraqis and Jordanians agreed that military efforts are just part of a greater struggle to earn the loyalty of citizens and deprive terrorists of potential recruits. Terrorism can't exist without financiers, sympathizers and social media propagandists who exploit poverty, unemployment and illiteracy among the citizenry. Nations must address those underlying contributors to terrorism.
"Defeating terrorism is not only a military objective, but we must build our nation economically and pave the road toward prosperity and stability," Col. Sufyan said. "In addition, leveraging employment opportunities and proper education will open up horizons for youth to avoid joining extremist groups."
Iraq's al-Numman warned the Amman conference attendees that Daesh and its imitators remain a threat to the region and the world. Governments cannot afford to let their guard down.
"Daesh lost the military battle greatly; however, it is still active in the information operations arena. It has shown advancement in the technology and media," he said. "It focuses on terrorizing citizens and preparing youths for future recruitment. Daesh is still working on rebuilding its capability. It is changing its strategy from holding ground to an insurgency war."  
The conference ended with high hopes from all parties for future cooperation and successful follow-up conferences in Baghdad. Despite the ferocious fighting and casualties, the Counter-Terrorism Service is a much stronger force that has earned respect in Iraq and the region. Iraqi and U.S. forces praised the Jordanian special forces for generously hosting the conference, and left Amman with a desire to reconnect soon.