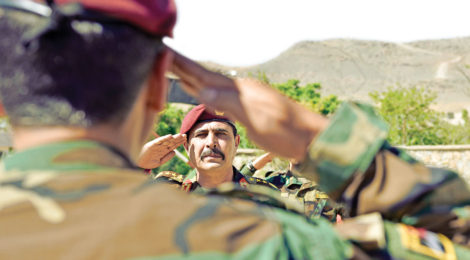 Afghanistan's Gen. Bismillah Waziri
 

is expanding special operations forces to defeat armed terrorists

UNIPATH STAFF

Photos by MASTER SGT. FELIX FIGUEROA. U.S. ARMY

Afghan Gen. Bismillah Waziri is Chief of General Staff of the Afghan National Army. Until recently he commanded  the Afghan National Army Special Operations Command (ANASOC), a force that intends to play a larger role in defeating armed extremists in the country. These troops are specially selected and trained to provide a mobile, well-armed force based across Afghanistan for maximum flexibility. The general graciously sat down for an interview with Unipath. 

Unipath: What is the size and composition of the Afghan National Army Special Operations Command?

Gen. Waziri: The latest graduating class of the Commando Qualification Course — the 24th — created approximately 980 new commandos. ANASOC has completed its first phase of commando growth with more than 4,000 new troops. With the goal of creating more mobile strike forces, we activated the first Cobra Strike Kandak, a mobile, well-armed battalion-size unit. The establishment of the Cobra Strike Kandak within ANASOC is part of the Afghan plan to double the size of the Afghan special operations forces.

Unipath: What are ANASOC's duties?

Gen. Waziri: ANASOC defends the rights and principles in the Afghan Constitution and the citizens of the Islamic Republic of Afghanistan from terrorist and insurgent violence. ANASOC accomplishes this by organizing, recruiting, manning, training, educating, equipping and employing ANASOC forces throughout Afghanistan in support of the government and national security strategy.

Unipath: What strategies have led to the success of ANASOC?

Gen. Waziri: First, we ensure transparency in everything we do. Additionally, the training that commandos receive at the School of Excellence here at Camp Commando comes from the best special forces partner nations around the world, partner nations such as Spain, Slovakia, Poland and the United States. This sort of training is something the Taliban and ISIS-Khorasan [ISIS-K] cannot stand up to. So, basically, commandos are better trained and better equipped. 

Second, we continue to integrate our operations with our Afghan Air Force, which is tripling in size. This is a capability the Taliban or ISIS-K obviously does not have. Our air support is using aircraft such as the: MI-17 helicopter, the MD 5-30 helicopter, the A-29 fixed-wing Super Tucano, and the PC-12 ISR [intelligence surveillance and reconnaissance]. With these aircraft, we deny Taliban, ISIS-K, and any other anti-government group freedom of movement or safe havens.

Third, to win you must be flexible and adaptable. The enemy will change its tactics, as will we. But we will win because the Afghan people choose their government over the Taliban.

Unipath: What are some of the command's recent accomplishments in defeating terrorists?

Gen. Waziri: First, I want to say that ISIS-K is toxic. The Taliban has no hope, and Afghan commandos and their growth is a good thing for all Afghans and Afghanistan's security and prosperity. Moreover, commandos continue exerting military pressure and launching operations against the Taliban and other terror groups around Afghanistan. Our most intense fighting has been in Faryab, Helmand, Kunduz, Ghazni and Nangarhar provinces. Speaking of Nangarhar, commandos recently destroyed ISIS-K's attempt to create a "caliphate" or "capital." In Badakhshan, the Taliban has recently come to the table with the local committee to discuss peace and reconciliation. To repeat what Ministry of Defense spokesman Gen. Mohammad Radmanesh said during a recent press conference: "It's better for the Taliban to choose peace instead of war."

Unipath: How can your forces help bring stability to Afghanistan?

Gen. Waziri: Our forces bring stability to Afghans and Afghanistan by constantly staying ready for any mission, anytime, anywhere. The reasons we are successful is we have good training and equipment and partner with NATO forces. We stay away from disputes among political parties so that we're viewed as a professional force without partisan allegiances. Our commander, the president of Afghanistan, and the Ministry of Defense have adopted a four-year road map to bring greater political stability to the country. From the perspective of special operations, this is a promise to the people of Afghanistan to achieve results in taking the fight to the enemy. The road map will be accomplished by 2020.

Unipath: As a military leader, how do you promote professionalism?

Gen. Waziri: We have a School of Excellence that recruits students from training centers, and even after they are deployed, we can bring them back for extra training to increase combat efficiency. In addition, mobile training teams go to units where they are based to assist with training and evaluations. Personally, as a leader, I promote professionalism among my forces by setting an example. I would never ask commandos to do something illegal, immoral or unethical. We are, above all, about transparency. Additionally, I would never ask commandos to take on a mission I myself am not prepared to handle if I had to. We here at ANASOC believe in leading from the front.