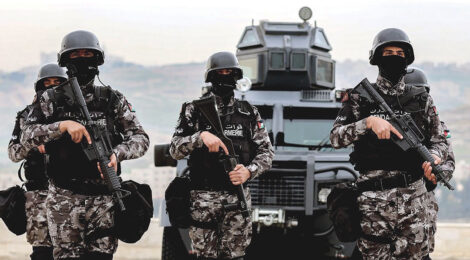 Maj. Gen. Hussein Al-Hawatmeh Promotes Professionalism
 

as Director General of Public Security of Jordan

UNIPATH STAFF

Photos by JORDANIAN 

GENDARMERIE DIRECTORATE

Being in command of a strategic force capable of striking terrorism with an iron fist, tackling those who seek to undermine national security, and maintaining the confidence of the leadership, subordinates and beneficiaries of security services requires an individual with deep-rooted military and security experience. This is why the Jordanian leadership's choice in 2019 of Maj. Gen. Hussein Mohammed Al-Hawatmeh for the post of Director General of Public Security of Jordan was prescient. 

In that role, Maj. Gen. Al-Hawatmeh also serves as director general of Jordan's Gendarmerie Forces (known as Darak). He possesses the personal qualities of a commander, deep knowledge of security matters and the proven ability to make sound decisions in the most difficult of circumstances. His leadership is admired by members of Darak as a result of his continuous communication with officers and noncommissioned officers. Within a short period, he has ensured Darak forces are a model of discipline and efficiency, able to handle security incidents with total professionalism.

Under his leadership, the Darak gained the trust and admiration of Jordanians in short time. According to recent surveys conducted by the Jordanian government,
94% of Jordanians surveyed expressed confidence in Darak, a lofty percentage rare for law enforcement bodies around the world.

Maj. Gen. Al-Hawatmeh spoke to Unipath about his leadership role model, from whom he learned a great deal in the course of his military career: 

"His Majesty King Abdullah II bin Al Hussein, supreme commander of the Jordan Armed Forces, is my leadership role model. I had the honor of serving under him when I was commander of a special operations company and His Majesty was overall commander of special operations at that time. 

"I learned the art of leadership from His Majesty, which begins with good relations, humility and kindness to Soldiers, and listening carefully to their concerns where these exist. I also learned from him composure in difficult situations because a leader must remain calm and in control of his emotions when making important decisions, and I am honored to have learned these qualities from His Majesty."

Maj. Gen. Al-Hawatmeh's military career has benefited from unparalleled security and military experience. He graduated from the Royal Jordanian Military Academy in 1985 and joined the ranks of the Jordanian special forces, a service in which he rose from lieutenant to brigadier general. During this period, he served as commander of a parachute regiment, an intelligence officer, commander of a special forces battalion, and commanding officer of a commando unit. 

During his career, he attended several courses and training programs, the most important of which was a special forces course in the United States. He also obtained a master's degree in strategic planning and international security from the National Defense University (NDU), in addition to serving as military attache in Pakistan for two years. During a stay at U.S. Central Command, he represented the Jordan Armed Forces as senior national representative.

Maj. Gen. Al-Hawatmeh vouches for the importance of trust and friendships as the basis for building strategic partnerships.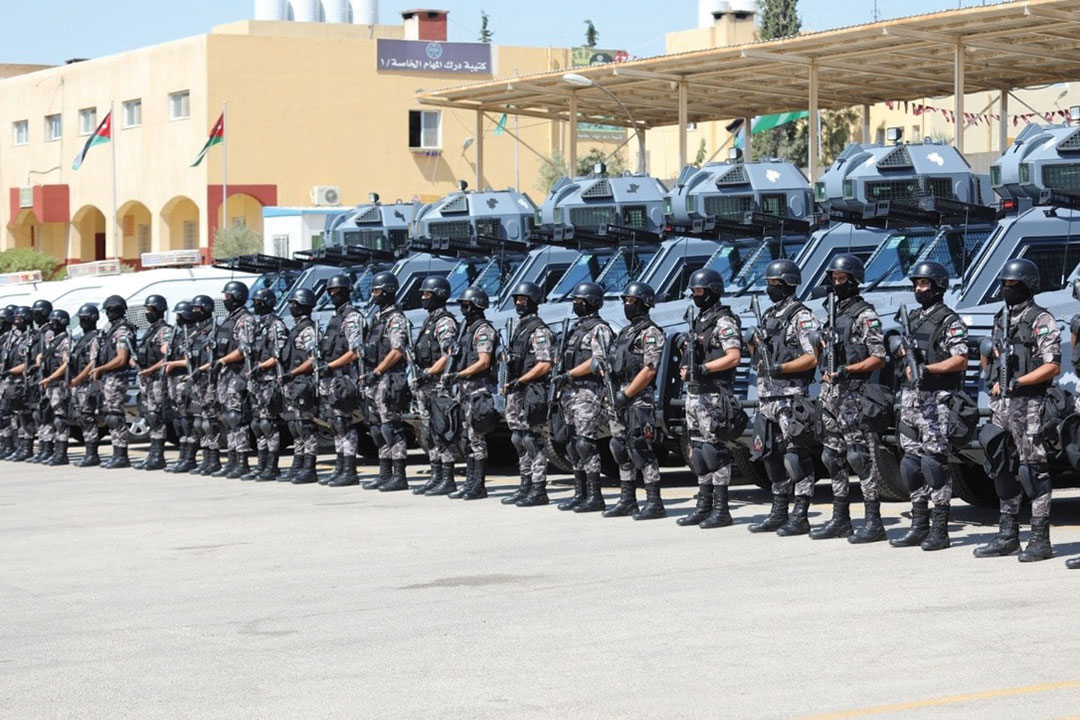 "The United States is an important country for Jordan, and we feel close to the American people. I personally went to the United States when I was 20 years old. I lived among them and got to know them well, and I saw the true friendship and generosity of the American people. This made my subsequent work with them enjoyable. We shared the same way of thinking and working, based on dealing honestly and respectfully with allies. 
"My experience of them showed me that they respected the value of honesty even if there was a difference of opinion. My relationship with them was therefore good and based on mutual honesty and respect for others. As for the nature of the relationship between our two countries in general, I am a military man and do not like to go into politics, but at the strategic level our relationship with the American side is a strong strategic partnership based on mutual trust and cooperation, and they are real allies in contributing to reinforcing security and stability in the region."
Practical experience gained in the field with coalition forces has been a boon to the Jordan Armed Forces, the general said. 
"Military and security operations beyond borders, such as peacekeeping operations or training activities between armies and allied and friendly forces, bring new expertise to the Armed Forces and security services. These days, modern wars are no longer conducted as they were historically between warring armies. 
"Warfare is now nonconventional and characterized by fighting the forces of evil and terrorism. These are security operations aimed at preserving security and stability, ending civil conflicts and protecting innocent civilians.
"Our broad international participation in this field has given commanders and Soldiers a great deal of expertise in dealing with terrorist groups within cities, especially as terrorist gangs around the world now work together in coordinated fashion and learn from their experience. 
"Therefore, our international experience with our allies, especially the Americans, has given us greater capability in preventing similar attacks — God forbid — in Jordan, as well as how to work and interact in a multinational environment where we share experience and know-how and international best practices."  
Being in command of a strategic force in a volatile region requires nerves of steel and the ability to manage both work and family commitments. 
"I spent most of my military life as a special forces officer, so I had no time for rest because all my time was spent working and training, and I did not have any major problem reconciling work and family," he said.
"From the beginning, my family got used to the nature of my work, and as you know, special forces members have missions that require constant travel. Of course, pressure and responsibility increased after I took command of Darak. But I believe that organizing one's time and carrying out work as part of a daily regimen enables a person to lead a normal life."
In addition to his leadership skills, intelligence and ability to work under pressure, Maj. Gen. Al-Hawatmeh is known for performing good works and meeting the needs of the citizens and residents of Jordan with a magnanimity that inspires trust and respect. The heartful story of an Iraqi young lady is emblematic of the general's character.
A young Iraqi female was stranded in Jordan after her mother died in one of the country's hospitals. She had no relatives or other sources of support to help with transferring her mother's body, funeral arrangements and burial. Desperate, the girl appealed for help on Facebook.
Maj. Gen. Al-Hawatmeh leapt to action with great chivalry by ordering Darak forces to arrange the funeral. They provided a dignified service befitting a guest of Jordan. When the story appeared on social media — and was subsequently broadcast by news agencies — it became a source of pride for Arabs throughout the region.
In the eyes of Maj. Gen. Al-Hawatmeh and the Jordanian leadership, the country's military and security forces must think strategically about tackling future threats and adjust training and development to reflect those threats. 
"While we are highly prepared for the present, we look to the future constantly. We have to be ahead of the enemy, and if we anticipate the nature of future security challenges, we will be able to put in place appropriate plans and scenarios to meet and overcome them," the general said.
"We monitor terrorist activities in the region, we track terrorist movements and techniques and undergo training in how to defeat them. Technology is the greatest challenge to security thinking, because these are tools available to terrorists and can be used to mount attacks on civilian installations and innocent people. One example is the accelerated development in the use of remote-controlled aircraft. This places a huge burden on the security forces to find ways to neutralize such challenges."
Technology is only as good as the people wielding it. The general places an absolute priority on developing human resources. It even takes precedence over the acquisition of modern equipment. His vision includes deemphasizing customary top-down, centralized leadership in favor of training young officers to seize the initiative in the field. 
"Development begins with manpower, because equipment and devices are easily available once the material capabilities are present. Developing the human element requires a great deal of time and effort along with sound planning," he said. "My main goal is to develop and prepare leaders capable of leading security operations without being beholden to centralized decision-making."
The general also stresses a code of professional ethics that includes adhering to the law at all times and treating people humanely in the field.
"This is the essential condition for achieving professionalism," he said. "In other words, we do not hesitate to impose security when required, and we have the necessary means to do this, but we adhere to ethical constraints when dealing with civilians."
Maj. Gen. Al-Hawatmeh urges the younger generation of officers to stay abreast of modern security challenges that will shape the course of their careers. 
"You are the future leaders, and you must develop yourselves professionally and cognitively," the general said. "You should remember that you are performing a noble mission and important duties in preserving national security, and you must also remember that security in today's world has become interconnected. It is not possible to separate the security of a particular country from its regional or international environment."